Our Skinny Center Body-Sculpting Treatments! Are All 20% off This Month!
We have a tongue twister for you: Slimmer Summer Celebration! Slimmer Summer Celebration! Simmer Summer Celebration! . . . Wait, instead of saying that five times fast, you could just call (760) 423-4000 to schedule a consultation to take advantage of our August specials. This month, you'll receive a 20% discount on any of our Skinny Center offerings including CoolSculpting, VelaShape III Laser and Tumescent Liposuction. These body-contouring options are excellent stand-alone treatments with great results* and can also be combined for further effectiveness. For example, VelaShape III is an excellent complement to smooth and tighten liposuction results.* The method of fat reduction you choose may be related to the area you want treated or it can come down to preference – coolness, heat or suction.
CoolSculpting

CoolSculpting and VelaShape III for Abdomen, 2 treatments
CoolSculpting – This Harvard scientist developed non-surgical cooling method is FDA cleared and essentially freezes fat cells – up to 25% of fat in the treated area. The fat is then naturally reduced by your body over a few weeks. Pretty cool, huh? CoolSculpting is excellent for abs, flanks, thighs, back, arms even small pockets of fat like under the chin. Results and your patient experience may vary. Schedule a consultation to learn more.
---
Tumescent Liposuction

Liposuction for Flanks
Tumescent Liposuction – Then there's the tried and true method of tumescent liposuction for immediately removing fat by suctioning it out of the body. The tumescent method is the gold standard for fat reduction and it is the safest method of liposuction. Dr. Jochen is an expert in this procedure which can reduce fat from even small areas like under the chin. The beauty of liposuction is that you can harvest some of your own fat for reinjection in certain areas like the temples which become hollow with age. Fat transfer is not recommended for all areas where facial fillers are injected. But if you're interested in this as an option, please ask about it. Results and your patient experience may vary. Schedule a consultation to learn more.
---
VelaShape III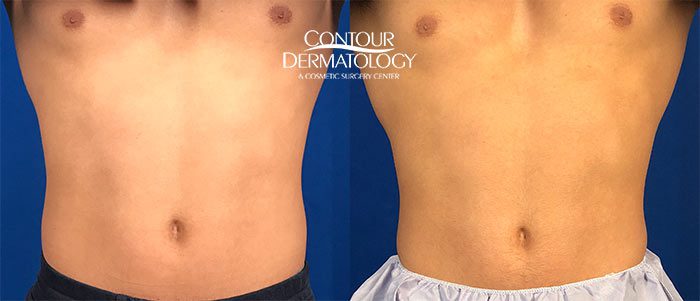 3 VelaShape III Treatments on Abdomen
VelaShape III – In addition to reducing the appearance of cellulite, a non-invasive VelaShape III treatment can give you circumferential reduction around your middle and thighs and it also can tighten lax skin on your neck. Using three forms of energy – biopolar radiofrequency, infrared light and mechanical suction, it feels like a deep tissue massage! Your fat is eliminated through the lymphatic system. Results and your patient experience may vary. Schedule a consultation to learn more.
---
Featured Skin Care Products, Save 15% on Sunscreens
Our physician-grade- sunscreens are the ones to use here in the California Desert!
From chemical to physical sun blocks to combination formulas, we have a variety of sunscreens to suit your needs from our physician-grade products. Some people prefer a tinted sunscreen, others like an elegant matte finish and some like an aero spray delivery. All of the following are broad spectrum sunscreens which means they protect you from both the UVA (aging) rays and the UVB (burn) rays. Stock up on your favorite sunscreen this summer during our August sale!
Choose from these 7 sunscreens:
Contour Dermatology Oil Free Moisturizing Sunscreen Broad Spectrum SPF 30
Elta MD Skin Care UV Replenish Broad Spectrum SPF 44
Elta MD Skin Care UV Aero Broad Spectrum SPF 45
Elta MD Skin Care UV Elements Broad Spectrum SPF 44 (Tinted)
Elta MD Skin Care UV Lip Balm Broad Spectrum SPF 31
Neova DNA Damage Control Silc Sheer 2.0 Color Correcting Photo Finish Tint, Broad Spectrum SPF 40 (Tinted)
Obagi Sun Shield Broad Spectrum SPF 50 Matte Finish
Sunscreens from $25
Call us today at 760-423-4000 or click here for an online appointment request.
* Results and your patient experience may vary