Play it Cool In La Quinta on Saturday, July 28!
You and a friend are invited to attend our July 28 CoolSculpting Lunch and Learn at Contour Dermatology's New La Quinta office.
Learn More About CoolSculpting, A Fat-Freezing, Body-Pleasing Treatment!
Reservations are required. RSVP to (760) 423-4000 use the convenient RSVP Online button below.
Be cool as a pineapple! Stand tall, wear a crown and be sweet on the inside! Here's another bit of advice: Don't let summer float by without your taking time to enjoy one of our exciting CoolSculpting Lunch and Learns. Our July event date is Saturday, July 28. Bring a friend and come learn more about this amazing body sculpting technology to simply freeze your fat away. We'll serve you a delicious lunch at 11:30 a.m. and then you'll hear a presentation at 11:45 a.m. by a CoolSculpting expert who will answer your questions. You can also win great raffle prizes and everyone who attends will get 20% off any CoolSculpting treatments scheduled this day.
Please bring a $10 donation to benefit FIND Food Bank.
This event is held at our La Quinta Office.
Experience Matters
CoolSculpting Testimonial with CBS Local 2 Anchor Jenifer Daniels
Contour Dermatology is a locally owned Zeltiq Certified CoolSculpting Center. Freeze your fat at an experienced practice you can trust.*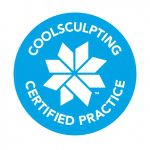 We have five CoolSculpting machines so you can have more than one area treated at the same time. Check out the excellent results our patients are enjoying with CoolSculpting. Each treatment only takes about 35 to 45 minutes depending on the area treated. Then over the next few weeks, your fat is naturally eliminated through your lymphatic system. How cool is that?
If you have pinchable fat, CoolSculpting can help you get the sculpted body you want!*
CoolSculpting treatments take anywhere from 35 to 45 minutes depending on the area treated and one treatment reduces approximately 25% of fat cells in the treated area. CoolSculpting is effective for:
Wouldn't You Like a Sleeker Profile?
Check out These Before and After Results:
View our CoolSculpting actual patient before and after photos >>
When: Saturday, July 28, 11:30 a.m to 1 p.m.
Where: Event held at our new La Quinta office. Reservations are required, click the RSVP button above to reserve your spot!
Benefits: Please bring a $10 donation benefiting FIND Food Bank and receive a delicious lunch to enjoy during the presentation.

CoolSculpting Demonstration on Day of Beauty at our La Quinta Office, earlier this year!
* Results and your patient experience may vary