Learn more about this royal treatment
Contour Dermatology invites you to join us for a very cool lunch and learn about CoolSculpting on November 17
Event held at our New La Quinta Office.
Please Join Us November 17, Lunch…Prizes…Special Pricing!
Reservations are required. RSVP to (760) 423-4000 use the convenient RSVP Online button below.
Calling all Kings and Queens! We have a royal treatment that can help you regain your regal physique. Join us the week before Thanksgiving for a special lunch and learn presentation at our La Quinta office. CoolSculpting is quickly becoming a household name, but no doubt, you have some questions about how this non-surgical fat reduction treatment works, what it feels like and what the results are. Here's your chance! Bring a friend and join us for a delightful lunch, a presentation by a CoolSculpting expert and a chance to win a free CoolSculpting treatment. Everyone who attends can save 20% on CoolSculpting.
Please bring a $10 donation to benefit Children's Discovery Museum of the Desert.

This event is held at our New La Quinta Office.
Experience Matters
CoolSculpting Testimonial with CBS Local 2 Anchor Jenifer Daniels
Contour Dermatology is a locally owned Zeltiq Certified CoolSculpting Center. Freeze your fat at an experienced practice you can trust.*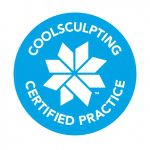 We have five CoolSculpting machines so you can have more than one area treated at the same time. Check out the excellent results our patients are enjoying with CoolSculpting. Each treatment only takes about 35 to 45 minutes depending on the area treated. Then over the next few weeks, your fat is naturally eliminated through your lymphatic system. How cool is that?
If you have pinchable fat, CoolSculpting can help you get the sculpted body you want!*
CoolSculpting treatments take anywhere from 35 to 45 minutes depending on the area treated and one treatment reduces approximately 25% of fat cells in the treated area. CoolSculpting is effective for:
As Easy as One, Two, Cool
You know how ice cream freezes in the freezer? Well, the same thing happens to your fat when CoolSculpting technology is applied. The fat cells are destroyed and become hardened and over time, they are naturally eliminated by the lymphatic system. In a nutshell, that's how CoolSculpting works. To learn more, RSVP to attend this Lunch and Learn.
We Can Treat Any Area of "Pinchable" Fat
At Contour Dermatology, we have five CoolSculpting machines. We have specific adapaters to treat just about any area of fat you want to reduce. CoolSculpting is non-surgical and non-invasive. From your abs, flanks, arms, back, thighs, even under the chin, we can help you Contour your body!
Each CoolSculpting treatment reduces about 25% of the fat cells in the treated area. These cells are then naturally eliminated through the body's lymphatic system.
Check out These Before and After Results:
View our CoolSculpting actual patient before and after photos >>
When: Saturday, November 17, 2018, 11:30 a.m to 1 p.m.
Where: Event held at our New La Quinta Office. Reservations are required, click the RSVP button above to reserve your spot!
Benefits: Please bring a $10 donation benefiting Children's Discovery Museum of the Desert. and receive a delicious lunch to enjoy during the presentation.

CoolSculpting Demonstration on Day of Beauty at our La Quinta Office, earlier this year!
* Results and your patient experience may vary