February Face Renewing Specials, Fillers and Botox or Dysport
"There is a fountain of youth: it is your mind, your talents,
the creativity you bring to your life and the lives of people
you love. When you learn to tap this source,
you will truly have defeated age."
~ Sophia Loren
Feel More Confident
Remaining youthful as you age involves your entire attitude. Our patients don't really want to escape aging – they want to build upon their life experiences and wisdom as they continue their journey. But one thing is sure – when you feel more confident about yourself, it shows in every area of your life. Dr. Jochen and our nurse practitioners excel in helping soften the visible effects of aging which can contribute to your overall well-being.
Helps Restore Lost Facial Volume*
This month, we are offering two face specials. Schedule your consultation by February 28 to take advantage of our Liquid Facelift Special – buy 4 mls, get 2 mls FREE to help restore lost facial volume and a $99 special on Botox and Dysport to reduce the appearance of crow's feet around your eyes.*
---
What is a Liquid Facelift?
A liquid facelift typically involves the injection of six milliliters of a dermal filler such as the Restylane family of products, Juvederm fillers, Sculptra or a combination of dermal fillers as different densities are recommended for different areas of the face. It's called a liquid facelift because this amount provides total facial rejuvenation to restore lost facial volume to the cheeks, hollow temples, hollow under eyes, define the jawline, fill in fine lines and wrinkles, more severe wrinkles and folds and plump lips if desired – all with a natural looking result. Also, filler in the cheek and jaw areas does provide some natural lifting.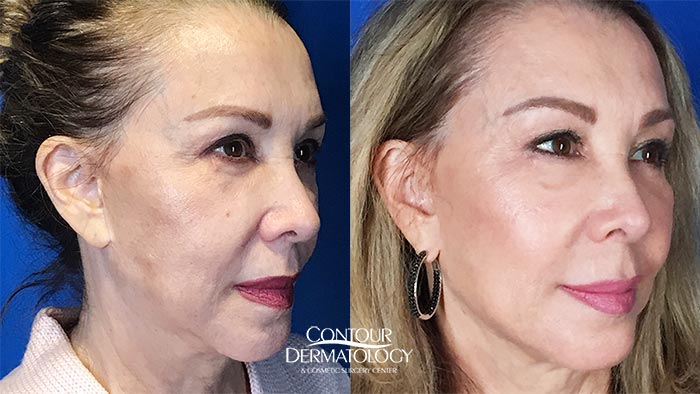 Liquid Facelift with Juvéderm Voluma
---
Botox and Dysport for Crow's Feet
You eyes are your most prominent feature. While some call them character lines or laugh lines, other people are distressed at the formation of crow's feet lines around the corners that can detract from sparkling eyes. Botox and Dysport are both similar products that can relax the muscles that contribute to these lines. Botox and Dysport help lessen the appearance of these lines with results lasting for several months. Schedule your appointment today to learn more.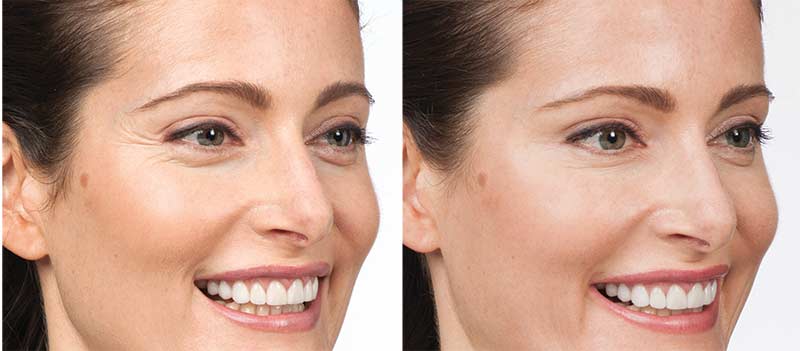 Botox for Crow's Feet Before and After
Restrictions may apply. To receive these rates, please schedule appointment by 1/31/19.
Call (760)-423-4000 to schedule your personal consultation or click here for online appointment request.
* Results and your patient experience may vary