Turn Your Flab into Fab – 3 New Year Specials at our Skinny Center
Contour Dermatology invites you to take advantage of our Skinny Center specials for reducing flab. CoolSculpting, Lipo & VelaShape III Laser.
FLAB is a definitely a "four-letter word" and many people may feel as though they are cursed with flab or fat they just can diet or exercise away. As we begin not only a new month, but also a New Year – here are three specials that will help you fight flab. This month only, you can save 20% on any of our Skinny Center treatments – CoolSculpting to freeze your fat, VelaShape III to heat and laser away your fat and tighten skin and Tumescent Liposuction to literally suction out fat. If you'd like to start the New Year off as a slimmer New You, schedule a consultation to see which method or combination thereof is best for you. Please schedule appointments by January 31, 2018 to receive this special rate.
Save 20% on CoolSculpting, Liposuction and VelaShape III
---
CoolSculpting – The Coolest Way to Reduce Fat
CoolSculpting is one of the most popular treatments at Contour Dermatology and our practice is in the top 2% of CoolSculpting practices nationwide. CoolSculpting is quick, easy, has no downtime and offers permanent results with about 25% reduction of fat cells in the treated area.
To learn more about CoolSculpting and see Before and After Photos please click here.

Special offer: Save 20% on CoolSculpting.

---
Tumescent Liposuction – Supremely Sculpted
Dr. Jochen is an expert at Tumescent Liposuction. This proven method can help you get a more svelte, sculpted look to improve any problem areas with significant fat reduction. Minimal downtime. Tumescent Liposuction is a long-lasting method of removing unwanted fat that settles in all the wrong places. It is designed to help you reduce fat deposits that are resistant to diet and exercise. Dr. Jochen is an expert in tumescent liposuction which can be performed on the abdomen, flanks, outer and inner thighs, buttocks, arms and even under the chin.
Tumescent Liposuction is a form of Liposuction that uses local anesthesia rather than general anesthesia or IV sedatives, which are typically used in older Liposuction techniques. During the procedure, a large volume of Tumescent fluid is injected into the body's fat deposits. This liquefies fat and allows it to be removed through very small incisions. Tumescent Liposuction causes dramatically less bruising as well as bleeding during and after the procedure.
To learn more about Tumescent Liposuction and see Before and After Photos please click here.
Special offer: Save 20% on Tumescent Liposuction.

---
VelaShape III – Your Ticket to a Hot Body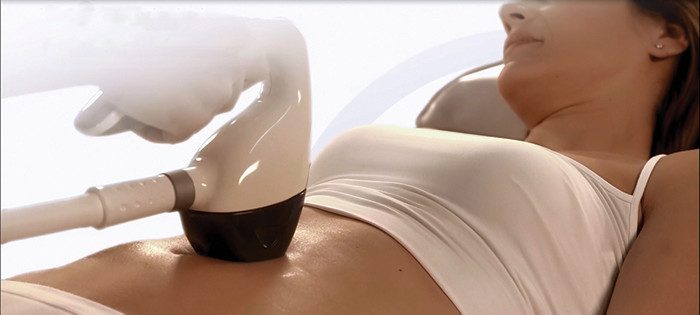 VelaShape III combines three treatment methods to reduce inches or smooth out cellulite and tighten skin: bipolar radiofrequency and infrared laser light for heat and mechanical suction to break up fat cells which are then naturally eliminated by the body. VelaShape III also has no downtime.
But that's not all! Referred to by Dr. Jochen as a "warm, deep-tissue massage," the VelaShape III is an excellent complement to Tumescent Liposuction procedures to give you that beautiful finish you crave. Mechanical massage enhances the flow of these fat breakdown products along with trapped fluids to the lymph system. In the dermis, the collagen fibers shrink, resulting in smaller fat chambers and skin tightening. The heat causes collagen shrinkage and activation of the fibroblasts to synthesize new collagen fibers. The end result of all these changes is localized circumferential reduction, improvement in cellulite appearance and ultimately body reshaping.
To learn more about VelaShape III and to see Before and After Photos please click here
Special offer: Save 20% on VelaSahpe III.
Answer to New Year's Facebook Question: She buys new shoes every New Years to walk into the new year!
Restrictions may apply. To receive these rates, please schedule appointment by 1/31/18.
Call (760)-423-4000 to schedule your personal consultation or click here for online appointment request.
* Results and your patient experience may vary