This Terrific Trio will Renew Your Eyes
Please schedule your consultation to learn more by calling (760) 423-4000 or click the convenient button below to schedule online.
From bright baby blues, warm brown, multi-colored hazel, sun-kissed amber to the rarest hue of green, your eyes are your most dominant feature. They are your window to the world, but also to the soul. When you start to experience droopy eyelids or under-eye bags or prominent wrinkles around the eyes, it can detract from your bright-eyed appearance. This May, we have three options to help you renew your eyes – upper eyelid surgery, lower eyelid surgery and CO2 laser for wrinkles around the eyes. You'll also find all of our eye cream products on sale!
Upper Eye Lid Surgery
Dr. Timothy Jochen is an expert in blepharoplasty. Blepharoplasty is a big word, but it's a simple 10-minute procedure done under local anesthesia. In no time at all Dr. Jochen can reduce the sagging upper eyelid skin to restore your beautiful eyes.

Upper Eyelid Surgery (Blepharoplasty)
---
Lower Eyelid Surgery

Lower Eyelid Surgery (Lower Blepharoplasty) + CO2 Laser Resurfacing around Eyes, 1 month after
Lower eyelid surgery removes any excess fat that collects under the eyes also called under eye bags. Send your bags packing by investing in a lower blepharoplasty. This is one of those procedures that Dr. Jochen considers a wow treatment. Men and women can see years dissolve just by improving the appearance of their eyes.
---
CO2 Laser Around the Eyes

Fractional CO2 Laser before and after
This amazing laser treatment produces significant results for reducing wrinkles around the eye. It also tightens skin! It's a great stand-alone treatment and it also is a treatment Dr. Jochen recommends along with eyelid surgery. It can be performed at the same time. Call to schedule an appointment to learn more.
---
Spotlight on Eye Creams
Wink, Wink! Two Great Products to Support Your Eyes! Save 15% on Eye Creams!
Obagi ELASTIDERM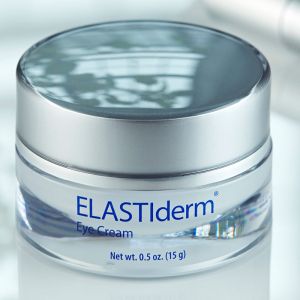 Elastiderm Eye Cream is a smooth, rich cream formulated with powerful, yet gentle ingredients to give you firmer, more resilient skin around your eyes. It's available in both cream and a roll-on delivery.
Restores elasticity around eyes
Reduces appearance of fine lines/wrinkles
Stimulates production of cells
Patent-pending formula with Copper, Zinc, Malonic Acid and Blueberry Extract
SkinMedica Illuminating Eye Cream
Say goodbye to dark circles. Say hello to brighter, firmer eyes. This amazing formula includes Vitamin C, Vitamin E, growth factors, peptides and two specialty ingredients to reduce the appearance of dark circles.
Reduces dark circles/discoloration
Reduces fine lines/wrinkles
Brightens/firms skin around eyes
Provides superior hydration for delicate skin
---
Call us today at 760-423-4000 or click here for an online appointment request.
* Results and your patient experience may vary