Better than Pumpkin Spice – You'll Light Up Like a Candle!
Contour Dermatology invites you to contact us to schedule a consultation to learn more about three face specials we are featuring in October.
THREE CHEERS FOR FACIAL REJUVENATION
Please schedule your consultation to learn more by calling (760) 423-4000 or click the convenient button below to schedule online.
Countenance. It's not a word you hear often, but it means more than just how you look. It's your expression, what you reflect to the world, how you radiate. This month, we have three uplifting specials that will not only help improve your appearance, but contribute to that inner glow of self-confidence that is so beautiful.
We only occasionally offer a special on the Mini Facelift and you'll find that, Triniti Plus – a series of three non-invasive treatments and Tumescent Liposuction for the face at special prices this month.
---
The Mini Facelift by Dr. Jochen – Minimally Invasive with Maximum Results
Mini Facelift Before and After Results
A mini facelift pulls back sagging skin and underlying muscle tissue in the lower two-thirds of the face. The results are long lasting and the neat incision around the ears makes for a virtually undetectable scar. The tight windswept look so many people fear is replaced with a natural-looking and firmer jaw line, accompanying smooth skin and an overall younger appearance. Many patients comment that they look 10 years younger!
Benefits of a Mini Facelift
Minimally invasive, outpatient procedure
Typically performed under twilight anesthesia
Provides long-lasting results
Virtually undetectable scars around the ears
Whisks years away with little downtime
---
Triniti Plus – Three Rejuvenating Methods in One Treatment Session
Total facial renewal. 3 laser treatments in the same treatment session.
Triniti Plus is our non-invasive special this month for the face. It's a comprehensive series of laser and radiofrequency devices that will address three key areas for the best results:
Color Correction – IPL Laser, improve uneven skin tone, sun damaged skin, spider veins / telangiectasia & brown spots.
Contouring – Sublime Laser, target the telltale signs of aging, including jowl & neck, brow lines and nasolabial folds.
Fine lines, wrinkles and texture – Sublative Laser, treat fine lines and wrinkles for smoother, younger looking skin.
After this series of five treatment sessions, you'll experience significant improvement in each of these areas as you enjoy a refreshed look. Call us to learn if the Triniti Plus is right for you.
---
Tumescent Liposuction for the Face – Totally Tailored Sculpting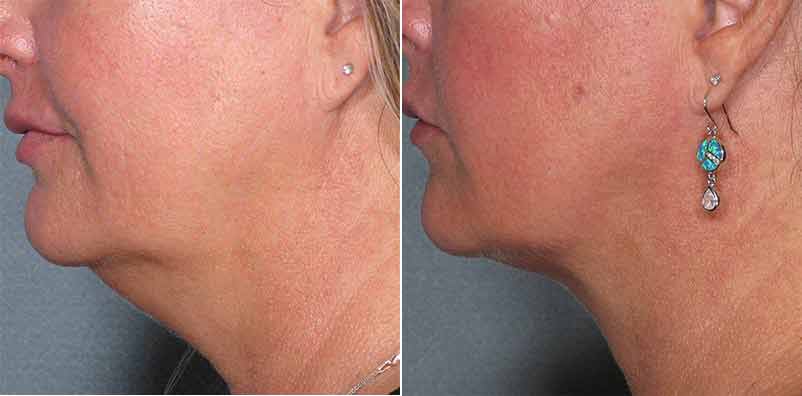 Chin Liposuction Before and After Results
Just about everyone knows how effective liposuction can be for the abs, hips and thighs, but did you know that you can sculpt smaller areas to reduce fat? Under the chin is very popular and we also can reduce the appearance of "chipmunk" like jowls. Tumescent liposuction provides permanent fat reduction and is a totally customized procedure to address your specific goals. Performed as an outpatient procedure, it just requires a local lidocaine injection at the area where the liposuction cannula is inserted. Dr. Jochen is an expert in the tumescent method of liposuction with many years of delivering excellent results for his patients. Call to schedule a consultation to learn more.
---
Call us today at 760-423-4000 or click here for an online appointment request.
* Restrictions may apply.
* Results and your patient experience may vary