It's Profound! Come learn why all the buzz!
Join Contour Dermatology for a lunch and learn about Profound Radiofrequency and Microneedling and discover why people are raving about it!
Join Us for a Profoundly
Interesting Lunch and Learn
Take an early lunch break and bring a friend to Contour Dermatology on Tuesday, December 12 for an exciting lunch and learn about Profound Radiofrequency + Microneedling. Discover why all the buzz about this amazing treatment that has a 100% response rate in treating wrinkles and 95% response rate for skin laxity.*
You'll enjoy a delicious lunch at 11:30 a.m., hear a presentation by a Profound expert at 12 p.m. and have the opportunity to get all your questions answered.
Please bring a $10 donation to benefit The Living Desert.
Reservations are required and seating is limited. This event is held at our Rancho Mirage office.
Please call us at (760) 423-4000 or use the convenient RSVP button above.
Must be present at the event to receive special pricing offer.
Check Out these Profound Results
Only One Treatment Needed!
In the world of cosmetic treatments, it's no secret that a combination approach works best. Profound, a non-surgical device by Syneron Candela does just by employing dual technologies in one treatment. Microneedles are heated by radiofrequency energy to cause your own body to produce collagen, elastin and hyaluronic acid. Profound is excellent for the face, jawline and neck and also treats crepey skin on the arms, legs and buttocks.
Profound Before and After Results*
Profound Results, Face and Neck
Actual Contour Dermatology Patient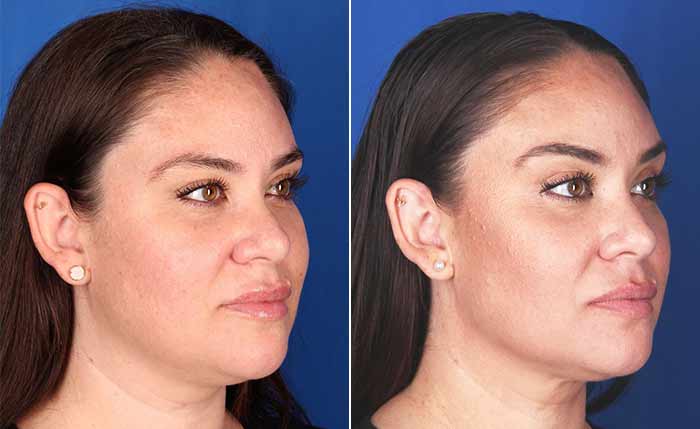 ---
Profound Results, Face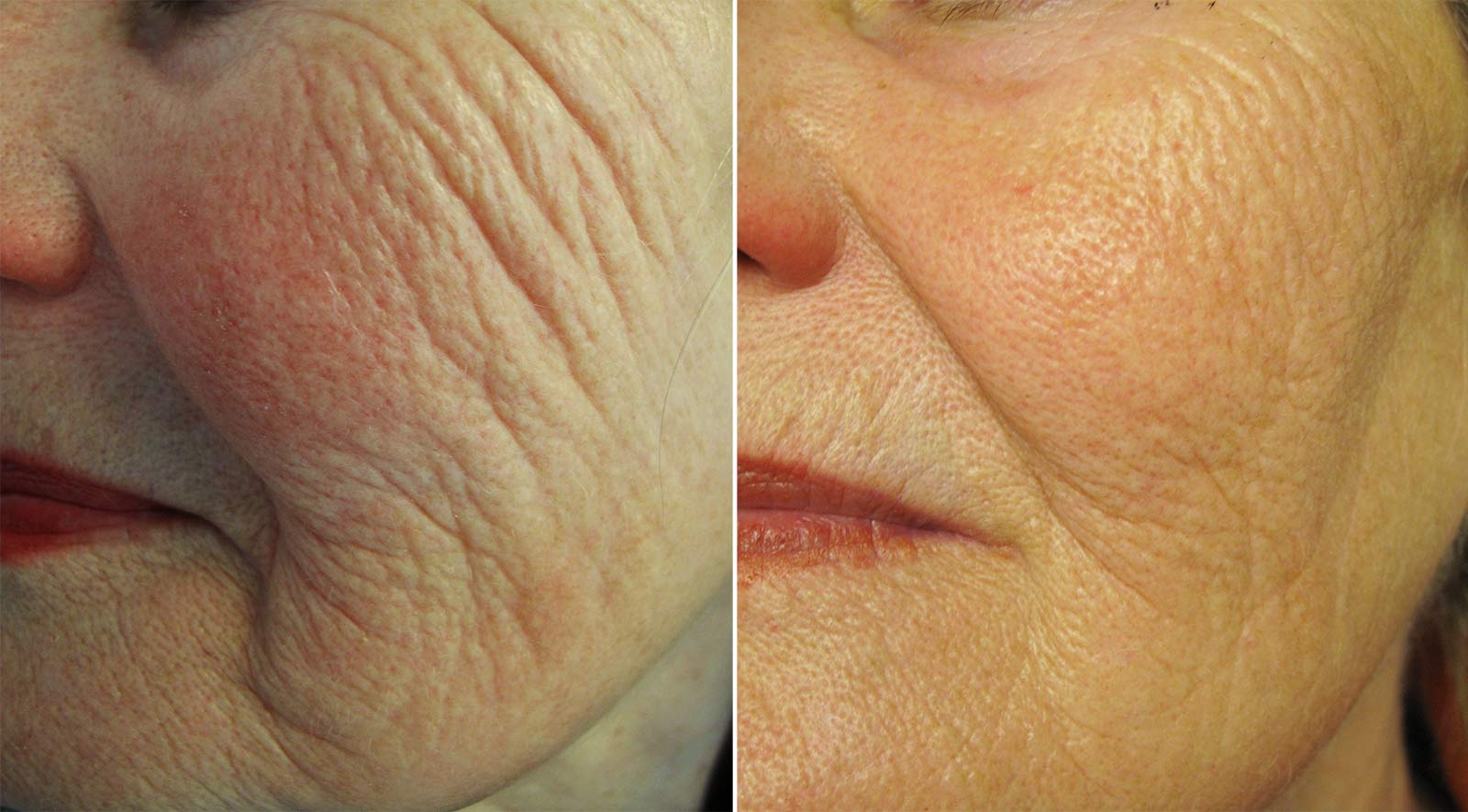 ---
Profound Results, Cellulite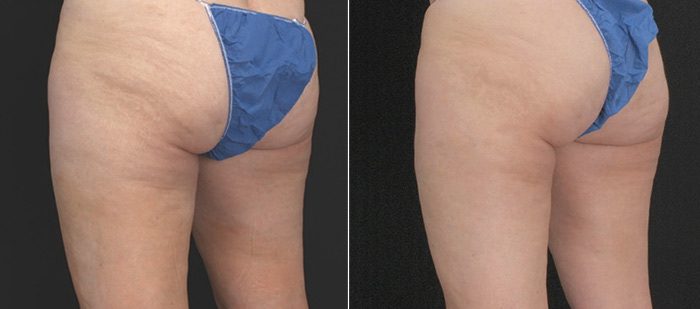 ---
How it Works
As we get older, our skin begins to lose some of its vitality, becoming more lose, wrinkled, and less full than it once was. This is due to the increase of catabolic activity, which simply means that the skin has begun to break down faster than it can naturally rejuvenate. Profound Lift uses micro-needle technology, to transmit radio frequency energy, at exactly the right depth, and temperature, to stimulate collagen, elastin, and hyaluronic acid production.
Collagen is a protein that naturally occurs in the body. In fact, nearly a third of all the protein in your body is collagen. It is responsible for maintaining the healthy structure of your bones, connective tissue, and skin. It is a very strong protein, unfortunately it is vulnerable to several things, such as aging, smoking, and the sun's harsh UV rays.
Collagen sets up a framework for new cells to attach and grow. Without this framework, the skin becomes weak, and unable to hold its once healthy form. By stimulating the growth of your body's own collagen, Profound is able to bring back that essential framework your skin needs to be healthy.
Elastin is also a protein found naturally in you body. However, it is a little different from collagen. Whereas collagen provides the strong, rigid framework for healthy cells to grow, elastin is a flexible protein, which, as the name suggests, is very elastic. The properties of elastin, allow it to flex, and quickly return to its normal state. consider it like a chain of proteins that form a rubber band for the tissues in your body. Both collagen, and elastin combine to make your body's tissues strong, yet flexible.
As we age, time takes its toll on elastin, the sun breaks it down, and life's stresses wear it down even further. This results in sagging, and wrinkles. Thankfully, the same RF process that stimulates collagen, also stimulates elastin. When Profound is used to boost elastin production, the skin is able to regain its lost plasticity. This results in lifting, and tightening of the skin, which reduces wrinkles, and sagging.
Hyaluronic acid(HA) is usually found naturally, and abundantly within the skin. HA helps keep the skin looking bright and healthy. It keeps collagen present in the skin, and aids elastin in its job of keeping the skin flexible.
The special thing about HA, is its ability to retain water, and thus provide the skin cells, collagen, and elastin with the vital moisture they need, to remain healthy. By stimulating HA production, Profound gives the skin a lasting boost in health. The skin becomes healthier, more elastic, brighter, and enables the skin to retain the moisture it needs to remain healthy.
The Procedure
Profound uses "micro-needle" technology to precisely target the areas needing stimulation. Advanced sensors within the electrode array are used to provide the physician with all the information they need to treat the patient with precision and maximum effectiveness.
The sensored array constantly monitors and sends feedback to the treating physician, so that every patient has the best treatment for their individual needs. This level of control means that every patient gets a custom treatment, that maximizes safety, results, and healing time. Patients will experience full results within about 2 months, and visual results usually continue for the next 6-12 months.
* Results and your patient experience may vary