You'll have a blast this September!
Contour is offering 4 ways to blast away fat this month. From CoolSculpting to VelaShape to Lipo or Kybella, save 15% on these treatments.
THIS IS JUST FATABULOUS!
Please schedule your consultation to learn more by calling (760) 423-4000 or click the convenient button below to schedule online.
Fat might as well be a four-letter word. So we're spotlighting four ways to blast your fat away this September – big fat, little fat and even itty-bitty fat. Whatever bothers you, we have solutions. No, this doesn't replace healthy eating and exercise, we're talking about body sculpting to get you jump started or refine those problem areas that won't go away despite exercise.
Call today to schedule a consultation to determine which fat blaster will best serve your needs: CoolSculpting, Kybella, VelaShape III or Tumescent Liposuction.
P.S. – We're motivating you with 20% off any of these treatments!
---
CoolSculpting – Non-Surgical Fat Reduction
One treatment of CoolSculpting on the abdomen
One of THE most popular services at Contour Dermatology, CoolSculpting is an amazing treatment that reduces up to 25% of fat cells in the treated area with patented cooling technology. Within a few weeks, the fat is naturally eliminated and you enjoy a more streamlined physique. CoolSculpting is the overall technology, but we have more than half a dozen different applicators to fine-tune the area you want to treat:
Abdomen
Flanks
Bra Fat
Arms
Back
Thighs
Under the chin
---
Kybella – Reducing Double Chins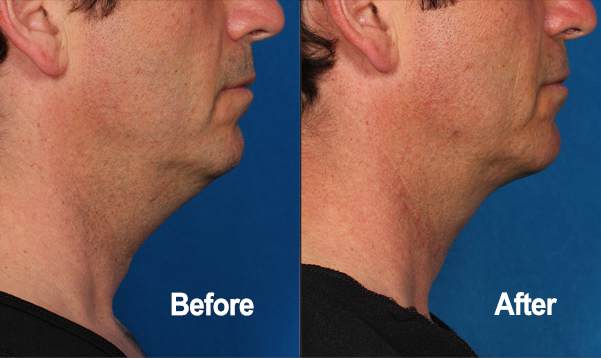 Kybella, Before and After, Actual Patient, Side View, Male
Kybella is also a non-surgical solution. This treatment dissolves fat through a series of injections with deoxycholic acid. It's an effective way to get rid of submental fat that gives you the appearance of a double chin.
---
VelaShape III – Cellulite Reduction + Inches Reduction + Skin Smoothing
VelaShape III before and after results
The VelaShape is a versatile device. First off, it feels like a deep tissue massage and who wouldn't like that? It features three types of energy to break up cellulite and heat up fat cells and smooth and tone your skin: bipolar radiofrequency, infrared light and mechanical suction. VelaShape III will help you reduce inches around the abdomen and thighs. It will reduce the appearance of cellulite. It also is a complement to other body treatments as it tightens and smoothes skin. VelaShape also can be performed on the neck to tighten lax skin.
---
Tumescent Liposuction – Superb Body Sculpting
Liposuction Flanks & Abdominal Area Before & After
Dr. Timothy Jochen is an expert in tumescent liposuction. This permanent fat reduction procedure is a tried and true method for body contouring. Using the tumescent method is a gentler approach and requires only local anesthesia. Patients can stand and move about during the procedure so the cannula can be angled in the most natural way to suction out the fat. Tumescent liposuction is effective for jowls, under chin, abdomen, flanks, thighs, arms among other areas.
---
Call us today at 760-423-4000 or click here for an online appointment request.
* Restrictions may apply.
* Results and your patient experience may vary