"I truly feel that I have found my passion with dermatology. I strive to be a caring, compassionate provider who makes a difference for each and every patient"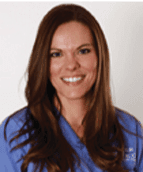 Jessica found her inspiration for healthcare early on from her parents. Her mother was a marriage and family therapist and her father was a paramedic. Seeing the difference her parents made in the community lead Jessica to a career in Nursing.
She did a specialty rotation here at Contour Dermatology, while still in Nurse Practitioner school. She officially joined the team in Fall 2013. Since then, Jessica has found a place at Contour Dermatology providing a variety of patient care services in medical and cosmetics including CoolSculpting, laser treatments, assisting Dr. Jochen with Mohs surgery and mini facelift procedures. She is also a provider for Contour's Medi-Weightloss program.
"The team at Contour is so amazing. From my first day, I felt right at home. Since I came here as a student, everyone has been very friendly, helpful, and encouraging. The patients are amazing and I enjoy time spent with each and every one of them. Dr. Jochen and the other providers have been such great teachers and I am so thankful they have shared their expertise with me."
Jessica struggled with acne growing up and always had trouble finding someone who could help provide her with proper treatments. This struggle sparked an interest in medical and cosmetic dermatology. The experience she had makes it easy for her to relate to patients who have skin issues.
Before gaining her degree in Nursing, she majored in Exercise & Sports Science at Western Washington University and now is the provider that works with The Medi-Weightloss Clinic at Contour Dermatology. "I can use my background in Exercise and Sports Science to integrate comprehensive health advice and help fight obesity. I feel lucky to be able to combine my love of dermatology with health and fitness."
Jessica and her husband, Chris, who is also in the healthcare field, live in Palm Desert with their cat and dog. They're both originally from Washington State and love to watch Seahawks games. She loves health and fitness and enjoys educating others on a healthy lifestyle. In her leisure time when she's not working or at the gym, she enjoys traveling, watching movies, and being adventurous.
Credentials
Master's Degree
MSN, Family Nurse Practitioner, Western University of Health Sciences, Pomona, CA
Bachelor's Degree
BS in Exercise and Sports Science, Western Washington University, Bellingham, WA
Licensure
Registered Nurse (RN), Nurse Practitioner (FNP)
Professional Memberships
American Academy of Nurse Practitioners, Dermatology Nurses Association, American Society of Bariatric Physicians
Healthcare Experience
Experience as an ER nurse at Pomona Valley Hospital. Now specializes in medical and cosmetic dermatology.