Mini Facelift
When the face in the mirror belies the youthful person underneath, a mini facelift can be just the solution. As years pass and skin elasticity declines, the mid and lower facial areas are especially vulnerable to sagging. Jowl formation can be a particular problem, aging a person unnecessarily.
The idea of undergoing a full-fledged facelift can be scary, not to mention expensive. A mini facelift is the alternative many are choosing instead. This minimally invasive, outpatient procedure, performed by Dr. Timothy Jochen in Contour Dermatology's AAAASF accredited surgical suite under twilight anesthesia, whisks the same years away, but with far less risk and at a more affordable cost. Downtime is also considerably reduced.
A mini facelift pulls back sagging skin and underlying muscle tissue in the lower two-thirds of the face. The results are long lasting and the neat incision around the ears makes for a virtually undetectable scar. The tight windswept look so many people fear is supplanted by a natural looking and firmer jaw line, accompanying smooth skin and an overall younger appearance.
To complement a mini facelift, many patients add chin and neck liposuction, Kybella injections or the CoolMini by CoolSculpting to reduce fat and the appearance of a double chin and VelaShape III laser treatments to tighten the skin on the neck to further enhance their results.*
Actual Contour Dermatology Mini-Facelift Patient Before and After Photos: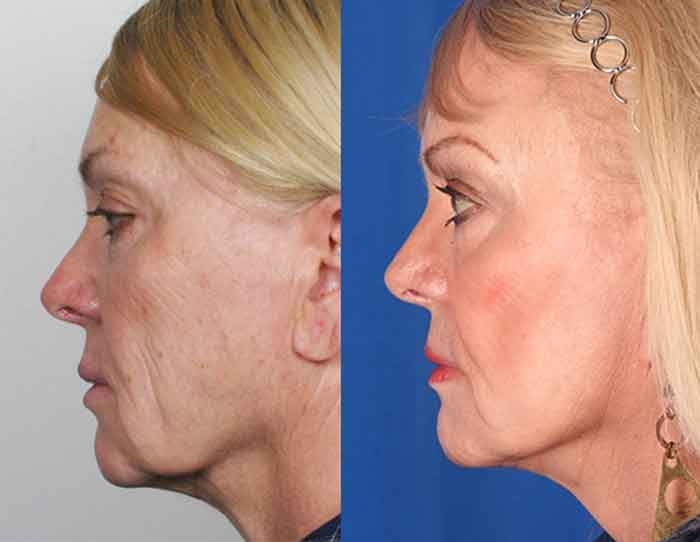 Dr. Jochen is a fellow of the American Academy of Dermatology, the American Academy of Cosmetic Surgery and a member of the American Society for Cosmetic Dermatology and Esthetic Surgery, among numerous other professional medical associations. He did his mini facelift training with renowned surgeon Dr. Henry Baylis, Founding Chief of Oculoplastic Surgery at UCLA. Dr. Jochen is also an Associate Clinical Professor at the University of Southern California in Los Angeles.