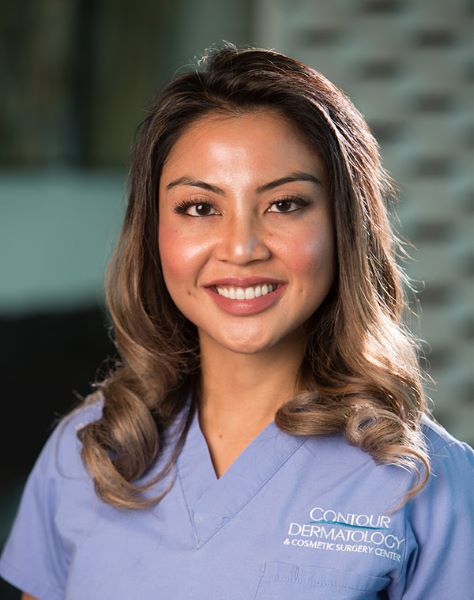 "I love the fact that I can provide a wide array of options for my patients. I'm not limited to giving them one thing, and I can tailor each option to the individual. It's not cookie cutter."
"I love the fact that I can provide a wide array of options for my patients. I'm not limited to giving them one thing, and I can tailor each option to the individual. It's not cookie cutter."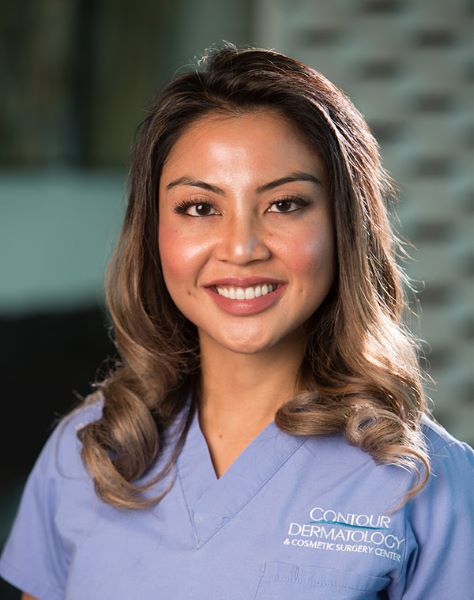 Xarlyn Rantung, NP-C joined Contour Dermatology in 2016 as a Nurse Practitioner. She sees patients for medical and cosmetic dermatology and also assists Dr. Jochen with hair transplant procedures as well as Mohs surgery for skin cancer removal.
Prior to joining Contour Dermatology, she was a medical/surgical nurse at Redlands Community Hospital in Redlands for two years. Before that, she worked as an RN Case Manager at a palliative and hospice care center in San Bernardino for two years. She also has worked as a nurse in the ICU and Telemetry Units at St. Bernadine Medical Center in San Bernardino for nearly three years. It was at this medical center where she met her husband, Wendhy Rantung, who currently works there as an urgent care RN.
Coming from a long line of medical professionals and pastors, Xarlyn's desire to care for and help people was cultivated at an early age. "I knew from childhood I wanted to be in the medical field. It was never a question of 'if,' but of 'where,'" she said. After I obtained my nurse practitioner certification, I waited for just the right offer as it had to be a fit. I have found my true calling in dermatology and really enjoy working at Contour Dermatology."
Xarlyn has a passion for lasers and loves to help patients with treatments to improve their skin tone and texture. Another thing Xarlyn likes about dermatology is that whether it's medical or cosmetic, each side of the practice applies to the other. "If a person needs medical treatment of a scar, we also have lasers to help smooth it out to make it look cosmetically the best that it can," she said.
In addition to helping patients at Contour, Xarlyn invests her time to help the next generation of nursing professionals by serving as a nursing instructor at the West Coast University in Ontario, CA.
Xarlyn and her husband, Wendhy, live in Beaumont. In her leisure time Xarlyn loves to read novels, hike and travel.
Board Certification: American Association of Nurse Practitioners (AANP), Family Nurse Practitioner (NP-C)
Masters' Degree
Advance Practice Nurse, Family Nurse Practitioner, Azusa Pacific University, CA
Bachelor's Degree
Bachelor's Degree: Bachelor of Science in Nursing, University of Phoenix
Associate's Degree
Associate's Degree in Nursing, Pacific Union College, CA
Licensure
California State Licensed Nurse Practitioner (NP-C)
Professional Associations
Dermatology Nurses Association, American Academy of Nurse Practitioners
Healthcare Experience
Healthcare Experience: Xarlyn has more than 12 years of experience in health care including dermatology, hospital surgical unit, intensive care unit and hospice care. She also serves as a nursing instructor at West Coast University in Ontario.
MEET MORE TEAM MEMBERS
Nurse Practitioners