SublativeTM - Smooth Out The Lines Of Time
Tune into the Frequency of Sublative for Smoother, Younger-Looking Skin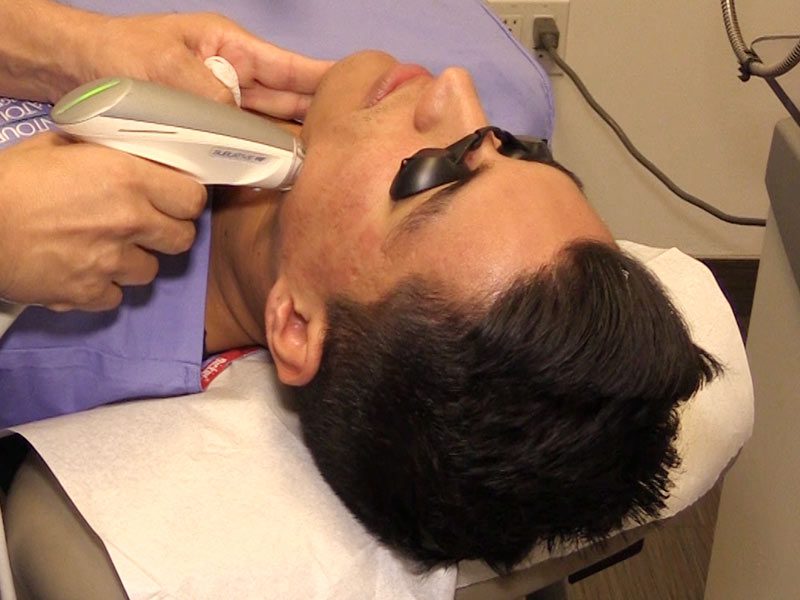 For acne scars that stubbornly stick around. This fractionated bipolar radio frequency technology is the only technology proven to reduce a wide range of acne scars safely and effectively on all skin tones with minimal downtime or side effects. (Bonus: it tightens skin and gets rid of post-sun skin damage.)
RF energy is precisely directed to the skin in the form of a matrix. Healthy skin around the dots accelerates the healing process of the skin. Post treatment, new collagen and healthy skin cells are produced. Mild to moderate wrinkles and superficial skin discolorations are reduced. The texture of your skin becomes more smooth and elastic.
About 75% of of us are reported to unsatisfied with the appearance of their skin, we want a cosmetic procedure that delivers results, but have real fears about pain, downtime, side effects and costs.
Sublative delivers effective results while eliminating the aforementioned apprehensions. Radiant, lifted skin is achieved without a needle or knife, without downtime and without the high cost of surgical techniques.
A broad range of patients seek Sublative treatment, from mature women who desire a lifted look to 30-somethings who want to take their beauty routine above and beyond antioxidant serums and creams. A significant number of women are starting their anti-aging efforts sooner in an effort to slow the inevitable.
In your 20s
Active oil production gives skin its dewy glow but also causes breakouts and, as a result, acne scars. Wearing protective armor, such as sunscreen and eye cream, and adopting a healthy lifestyle are the first steps toward preserving a youthful appearance. Avoid partying into the late hours, smoking, sun tanning and yo-yo dieting—the cumulative effects will show up later in life.
In your 30s
The skin is slower to "bounce back" after a night without sleep or too much alcohol. Collagen production, cell turnover and oxygen flow have slowed and it's starting to show in the form of dullness and fine creases. Other physical changes include enlarged pores, deeper expression lines, broken capillaries and puffiness or dark circles under the eyes. At this stage skincare becomes more specialized but are incapable of doing the "heavy lifting."
In your 40s
It suddenly takes a lot more work to look the way you want. Once women hit 40, it's easy to tell who's been taking care of their face and who hasn't. Skin is drier, thinner and less firm because lipid and estrogen levels have dropped. Loss of elasticity means skin is losing its bounce and fluctuating hormones can still cause occasional breakouts.
In your 50s
It's never too late to start taking care of your skin. At this stage, topical treatments – combined with a healthy lifestyle – still have plenty of wrinkle-fighting promise. However, they can't replace doctor's office procedures when it comes to eliminating serious sun damage and sagging.
This technology has been shown to effectively treat mild to moderate wrinkles, red and brown spots, and textural irregularities. This is truly the next generation of safe and effective rejuvenation technology.
Currently available exclusively in the desert at Contour Dermatology, Sublative utilizes bipolar fractional radiofrequency to deliver a smoother, more even skin tone. Sublative has been shown to be effective on mild to moderate wrinkles, red spots, brown spots and textural irregularities. It's safe and excellent for all skin types.
The Sublative device features a disposable applicator with a matrix of 64 electrodes. The bipolar radiofrequency energy generates deep dermal heating to induce skin injury, thus eliciting a wound healing response which is what stimulates new growth of collagen and elastin fibers.
Typically a series of three treatments spaced four to six weeks apart is recommended. Treatment for acne scarring may require additional sessions.