Laser Resurfacing - UltraPulse Fractional CO2
Reduce Wrinkles and Tighten Skin
Reduce wrinkles and tighten skin with this amazing 30 minute Laser treatment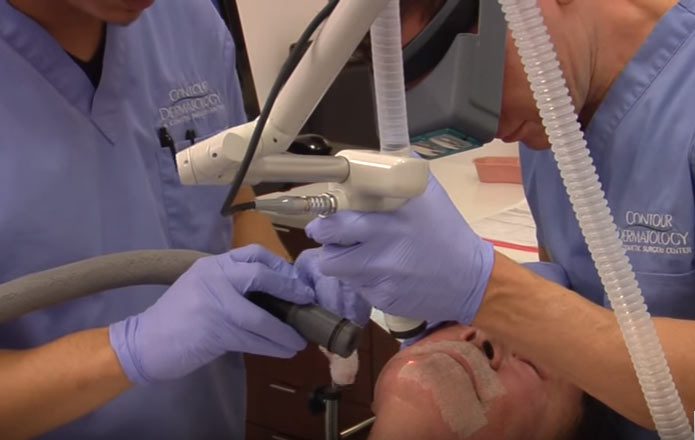 It's the best of both worlds: the outstanding results of laser CO2 resurfacing and the minimal downtime of less-ablative procedures. It's fractional CO2 laser resurfacing, and in one 20 to 30-minute treatment it can improve lines under the eyes and around the lips better than any other laser on the market today. Plus, it can shrink pores, reduce pigmentation, eliminate lines and tighten skin throughout the rest of the face – and all with an extremely short recovery (just days) and long-lasting results (years)!
The UltraPulse laser by Lumenis is the most versatile C02 laser system available. It delivers fractional CO2 treatments using two different attachable heads which offer varying depths so treatment can be customized just for you.
Active FX:
Excellent for treating fine lines, fine wrinkles, dyschromia (patchy, discoloration of the skin), clogged pores, and comedones (blackheads).
Deep FX:
Ideally suited for treating deeper wrinkles, scars and folds. Treatment only takes 20 minutes and the downtime is minimal. Results are long lasting.
Total FX:
A combination of both the more superficial Active FX and the deeper Deep FX treatment.
Max FX:
This treatment is comparable to traditional CO2 laser resurfacing, but is less ablative. It is effective for more serious dyschomias, heavier lines and wrinkles and scars.
With more than 34 cleared FDA indications for aesthetic use, the UltraPulse laser offers a safe, effective and totally tailored approach to laser rejuvenation. The Laser Center at Contour Dermatology is proud to offer this laser among our comprehensive inventory of the latest laser technology.
To learn more about the fractional laser CO2 resurfacing, please schedule a consultation by tapping the button above.