Scabies
Skin Conditions
Scabies is caused by a tiny mite that has infested humans for at least 2,500 years. It is often hard to detect, and causes a fiercely, itchy skin condition. Dermatologists estimate that more than 300 million cases of scabies occur worldwide every year. The condition can strike anyone of any race or age, regardless of personal hygiene. The good news is that with better detection methods and treatments, scabies does not need to cause more than temporary distress.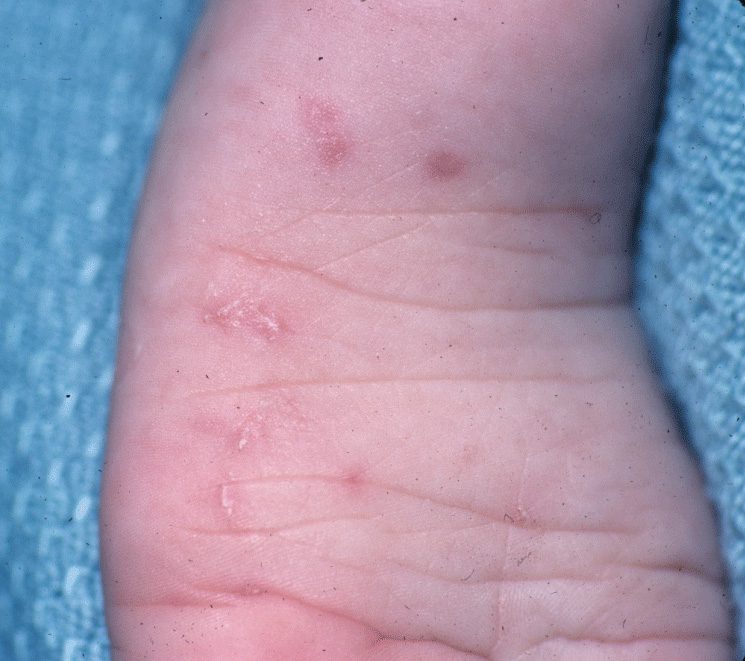 Human scabies is an intensely pruritic skin infestation caused by the host-specific mite Sarcoptes scabiei hominis. Approximately 300 million cases of scabies are reported worldwide each year.
Burrows are a pathognomonic sign and represent the intraepidermal tunnel created by the moving female mite. They appear as serpiginous, grayish, threadlike elevations in the superficial epidermis, ranging from 2-10 mm long. High-yield locations for burrows include the following:
Webbed spaces of the fingers

Flexor surfaces of the wrists

Elbows

Axillae

Belt line

Feet

Scrotum (men)

Areolae (women)
Scabies treatment includes administration of a scabicidal agent (eg, permethrin, lindane, or ivermectin), as well as an appropriate antimicrobial agent if a secondary infection has developed.