Fraxel Laser Treatments
LASER CENTER
The Laser Center at Contour Dermatology offers treatments using the Fraxel Laser, an advanced laser for skin rejuvenation that delivers outstanding results with little to no downtime or discomfort. We are one of the few medical offices in the desert to offer this remarkable new laser.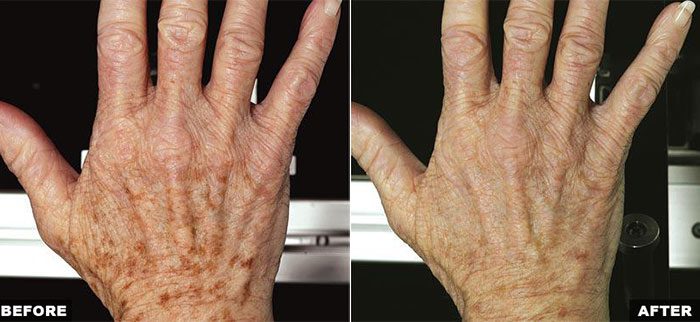 How the Fraxel Laser works
Just as a photographic image is altered pixel by pixel, Fraxel Laser Treatment improves the skin's appearance by treating only a fraction of your skin at a time with thousands of tiny laser beams. But for every microscopic zone the laser targets and treats intensively, it leaves the surrounding tissue unaffected. This "fractional" treatment enables the skin to heal much faster than if the entire area were treated at once, and uses the body's natural healing ability to create new, healthy and tighter tissue to replace skin imperfections. And because Fraxel Laser Treatment spares healthy tissue, it's effective on even delicate skin areas such as the neck, chest and hands – in addition to the face.
How Fraxel is different from other laser treatments
Until Fraxel, there were two types of laser treatments: ablative lasers that vaporize skin cells at very high temperatures (they're very effective, but require a lengthy recovery); and non-ablative lasers that cause very little downtime, but require numerous treatments and don't deliver the results of ablative treatment. Fraxel treatments offer the best of both: the effectiveness of ablative treatments with the benefits of the gentler, non-ablative lasers.
What Fraxel Treatments entail
To prepare the skin for treatment, it's carefully cleansed, then a blue tint is applied. This increases the contrast of tiny folds in the skin's surface, enabling the Fraxel Laser to precisely read the contours of the treatment area. The procedure takes between 20 and 25 minutes for the full face. The blue tint is washed off immediately after treatment.
Most patients describe the treatment as having a "prickling" sensation, so we use a topical anesthetic ointment and air cooling to minimize any discomfort.
How many treatments are needed?
On average, effective treatment requires three to five sessions, spaced two to four weeks apart.
What to expect after treatment
In the first 24 hours after treatment, your skin may look and feel like it's sunburned. Make-up can be worn to minimize redness. Your skin will then naturally bronze over the next week or so and, just like a sunburn, the skin will flake and exfoliate (a moisturizer can help reduce the appearance of flakiness). This process will repeat with every treatment. After treatment, it's very important to wear sunscreen with an SPF of 30 or higher, and avoid direct sun exposure.
How long before I see results
Results are immediate and progressive. Optimal improvement is usually visible in 2 to 3 months, when healing is complete and damaged tissue is replaced with new collagen and elastin – and healthy new skin.
What are the risks?
Swelling and redness are the most commonly reported side effects. If swelling does occur, it's minimal and subsides within a day or two. Redness fades within a few days. There is a very limited risk of infection or scarring.
"As my patients know, I don't invest in new equipment until I'm sure it will deliver safe and reliable results," Dr. Jochen notes. "Fraxel Laser Treatment delivers."