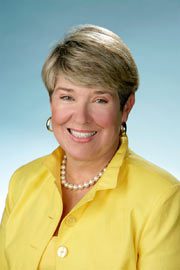 "I wanted to look younger, but I didn't want to have a facelift and I didn't want anything that would require anesthesia," states Mary Lee Murphy who had CO2 Laser Resurfacing by Dr. Timothy Jochen.
In her late 60s, this petite, blue-eyed blond comments. "I don't feel that old, but I could see that my skin was starting to creep. I had microdermabrasion and that wasn't enough, plus I had a brown spot on my cheek. I had been considering doing something more when I heard Dr. Jochen was giving a lecture at Eisenhower Medical Center. So I went to the lecture and I won a free IPL™ treatment! When I came in for the consultation, we discussed what would suit me best. I really appreciate Dr. Jochen's honesty in helping me determine what would give me the results I wanted."
"My skin is so much smoother now and the color is great – all the age and brown spots are off. I am using Retin A now and that helps to keep my skin rejuvenated. Dr. Jochen is quite talented and very well educated. He is sincere and watches his patients very closely."
"It took three weeks before I didn't look like I had a sunburn and there was some itching, but anything less would have been superficial and would not have given me long-lasting results," she states.
What does her husband think? "Paul is quite pleased with the results. But it was awfully nice of him to say that he didn't think I really needed anything," says Mary Lee.
The Murphys moved to Palm Desert in 1984; they also have a home on the Oregon Coast where they spend summers. "Paul was going to move here and retire," says Mary Lee, "but it wasn't six weeks before he got involved in real estate and a political campaign and I had nothing to do besides golf." So, he helped her start Desert Welcome in 1988, a company which she grew to a sizeable business with 10 hostesses meeting with more than 3,000 new homeowners each year. After nearly 20 years, she sold the business in 2006.
Between the two of them, the Murphys have four children and 17 grandchildren. Now when her grandkids call her grandma, she not only beams with joy, but with the radiance of a woman who has skin that reflects her youthful enthusiasm.