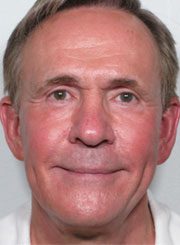 Glenn Ellison has been a Contour Dermatology patient for the past five years. A retail manager with Tommy Bahama, he moved to the desert in 2005 from Orange County where he also worked for the casual, yet upscale clothing line.
"Retail is a competitive market and we're all not getting any younger. I wear the clothes, I play the part and I want to stay competitive in the workplace," states Glenn who also has worked in the New York and Los Angeles markets.
At Contour Dermatology, Glenn first had liposuction for fat deposits in his arms, a light chemical peel and then four years ago; he had traditional CO2 resurfacing around his eyes by Dr. Jochen. Now with the advent of fractional CO2 lasers, he wanted to have total facial resurfacing with the TOTAL FX™ laser. A few months later, he also had Total FX on the eye area. Both procedures were performed by Contour's certified laser nurse, Ludim Camacho, RN.
"Ludim is a total professional who makes you feel comfortable and explains every step in detail," comments Glenn.
The results? "As advertised, the results are excellent," says Glenn. "There's an immediate result and then a gradual result. The immediate result is that as soon as the swelling goes down, your skin is extraordinarily smooth. The women at work noticed and commented on my skin right away," he says. The gradual result he explains was that he noticed as he was shaving after a few weeks, his skin definitely is tighter. "The skin seems to contract quicker and there is a really positive effect around the eye area."
The downtime with the Total FX? "It was about 10 days until I was totally back to normal again, but as far as presentable, in about six days. "I made the mistake of having my Driver's License picture taking during this time," he laughs.
Having had several treatments at Contour and consulting with Dr. Jochen, Glenn says he was already a religious user of Retina A and sunscreen which helped to accelerate a shorter recovery time. "When I first met with Dr. Jochen, we had a conversation about maintenance and those were his two big 'musts.'"
"I'm a total believer in maintenance. I'd much rather do maintenance than do something extreme when the time comes. The Total FX is a perfect procedure to do as needed. It's an inexpensive way to keep your skin at its optimum," comments Glenn.
Besides great results, another compliment Glenn has to say about Contour Dermatology is how comfortable he felt as a man having a cosmetic procedure. "Dr. Jochen is a kind man and excellent in what he does. He is so easy to talk with. Women are probably more comfortable in discussing their appearance and cosmetic things, but he made me feel very comfortable and was extremely honest and realistic. I appreciate his straightforwardness and he is always so upbeat and positive and his staff reflects that. The staff radiates concern and positive vibes when you're there and they remember you when you come back. It's a great place to go."