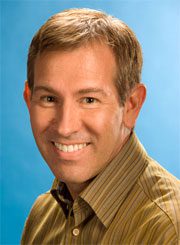 Randy Garner is a fit and trim guy who looks much younger than his 46 years, except that at about 30 he started noticing a receding hairline. It bothered him, especially as it got progressively worse, but he made a decision to wait to do anything about it until hair transplant surgery had improved beyond its original plugs and corn-row approach.
Today, new techniques are so sophisticated that each hair follicle is individually grafted creating a completely natural look. In Randy's case, he received about 1,200 micrografts in the crown and front hairline. "It's totally natural as it grows out, you'd never know it was a graft," he comments.
Randy also coincided his new look with moving to the Palm Springs area as a permanent resident. A native of Portland, Randy has had a second home in the area for several years and finally decided the warmer weather was where he and his partner, Danny, a personal trainer, wanted to spend all their time.
Randy currently works as a Sales Manger for the Palm Springs Desert Resorts Convention and Visitors Authority which puts him in front of a lot of people to communicate the many benefits of membership in this organization. His recent hair transplant gives him an extra boost of confidence now as he meets with people.
Part of his fitness routine is working out at Gold's Gym which is where he met Dr. Jochen. Randy moved to the desert in July 2007 and after meeting Dr. Jochen, decided to begin the process of mid-life renewal. Prior to the hair transplant, he and his partner both had liposuction and Randy had a fat transfer to fill in fine wrinkles around his eyes and Danny had a fat transfer to fill in the smile lines. "We view this as a way to refresh ourselves and as an extension of wellness," comments Randy.
Randy underwent his hair transplant surgery in October 2007 "I'm a satisfied customer," states Randy. "It's a great value in terms of the benefit for the dollar. It's permanent, unlike many cosmetic surgeries which are temporary. This procedure offers a lifetime of benefit."
Having had the one-time procedure, Randy needs to stay on a maintenance program which includes monthly use of the prescription medication Propecia. This medicine helps ensure that his non-transplanted hair doesn't continue receding.
"I'm really well filled in on the top and starting to fill in on the back. I'm extremely happy having had this done. Some people are comfortable with hair loss, but I'm not one who is," he said. "It's like someone who has lost a lot of weight, it just makes you feel better about yourself."
"The big thing people need to understand, as with many cosmetic procedures there's a desire to see immediate results, is that this procedure has a long waiting period," he explained. For prospective patients considering this surgery, Randy describes the procedure itself as painless and the healing process as painless. The procedure involves a local anesthetic on the head and Randy was able to talk to the Dr. during the process. It took four hours to complete the harvest and transplant, done all in one visit. "There's no downtime, you think there would be, but there's not."