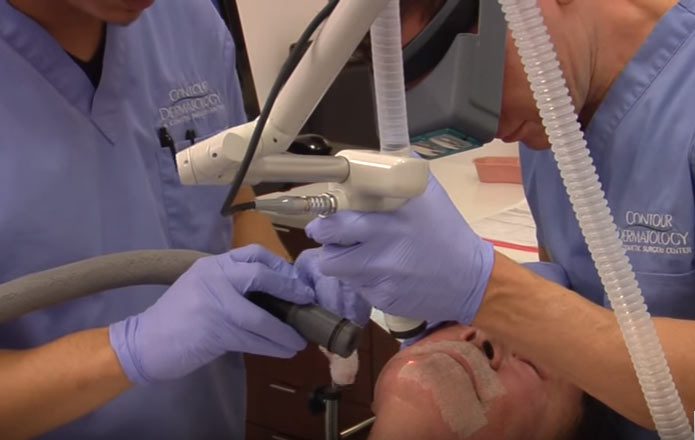 Seriously Versatile CO2 Laser
Perhaps you've pondered, you may have even waffled. But if the time for indecision is over and you're finally ready to get serious about CO2 laser resurfacing, there's no better choice around than UltraPulse CO2 laser by Lumenis. It's as serious as you are about achieving results.
UltraPulse penetrates deeper than other fractional CO2 lasers. It has two different attachable laser heads that can be adjusted to provide varying depths of treatment. This means it can be customized to meet your specific resurfacing needs. Take the Active FX mode, for example. It's excellent for helping to smooth fine lines, evening out patchy or discolored skin and minimizing large pores.
Fine, you say, but what about more prominent wrinkles, scars and folds? The Deep FX mode is the solution here and should you have a combination situation happening – say, discoloration and deep folds, you might opt for Total FX mode. Total FX provides a full range of treatment possibilities from mildest to most aggressive – all in one. We did say UltraPulse was versatile, didn't we?
But wait, there's more. Maybe scarring is the problem – for instance, pitting left over from a nasty battle with acne. In that case, the Max FX mode is the way to go. Max FX is comparable to traditional CO2 laser resurfacing, but is less ablative. It's also effective on seriously discolored patches of skin and heavier lines and wrinkles.
Through the combination of two distinct, detachable heads and varying intensity settings, UltraPulse CO2 laser by Lumenis offers more than 34 FDA-cleared indications for aesthetic use. Thirty-four! It addresses all the usual areas you'd generally think to focus your rejuvenation efforts on and then some. Your face, of course – more specifically, softening lines around your lips and crow's feet around your eyes. But don't forget about your neck (which you probably do feel bad about) or your upper chest or décolletage either. And what about telltale hands and arms? Remarkably versatile UltraPulse is the safe, effective approach to laser rejuvenation.
One 20- to 30-minute tailor-made treatment is all it takes. UltraPulse CO2 laser incorporates CoolScan™ technology for enhanced patient comfort. Plan for three to five days of downtime and some skin pinkness that will gradually subside. The effort and downtime is well worth it though because you'll look refreshed and remain so for a long time. If you're serious about skin resurfacing, try seriously versatile UltraPulse CO2 fractional laser.
* Results and your patient experience may vary