Happy Sunny Desert Summer!
Brought to you by the letter "P" for Prevention
Let's talk about sun safety: Tips to keep you and your loved ones safe and what to look for in sunscreen – just one part of prevention.
Best Sun-Safe Practices
Did you know that sunscreen is a relatively new thing? While ancient civilizations have used things like olive oil, sunflower oil, jasmine, various extracts, and even rice to protect their skin, sunscreen as we know it was not invented until the 1930s – in 1932 in Australia by Blake Milton, and the first commercial sunscreen was developed by Franz Greiter in 1938, a Swiss chemistry student who was unhappy about getting a bad sunburn while hiking in the Alps.
But sunscreen alone is not enough!
An iconic SunSmart campaign debuted in Australia in 1981 with the catchy words "Slip, Slop, Slap" to help people remember sun safety. They updated the campaign three decades later to add "Seek and Slide." Click below to watch the cute PSA with Sid the Seagull. It's a blast from the past to help your present summer!
In summary, that's:
SLIP on a shirt (or sun-protective clothing)
SLOP on sunscreen
SLAP on a hat
SEEK shade
SLIDE on sunglasses
Don't Be a Skin Cancer Statistic
About 5.4 million cases of skin cancer will be diagnosed this year among 3.3 million Americans, according to the American Cancer Society. Did you know that five or more sunburns between the ages of 15 and 20 raise a person's risk of melanoma by 80%? And it also increases the risk of basal cell or squamous cell carcinoma by 68%?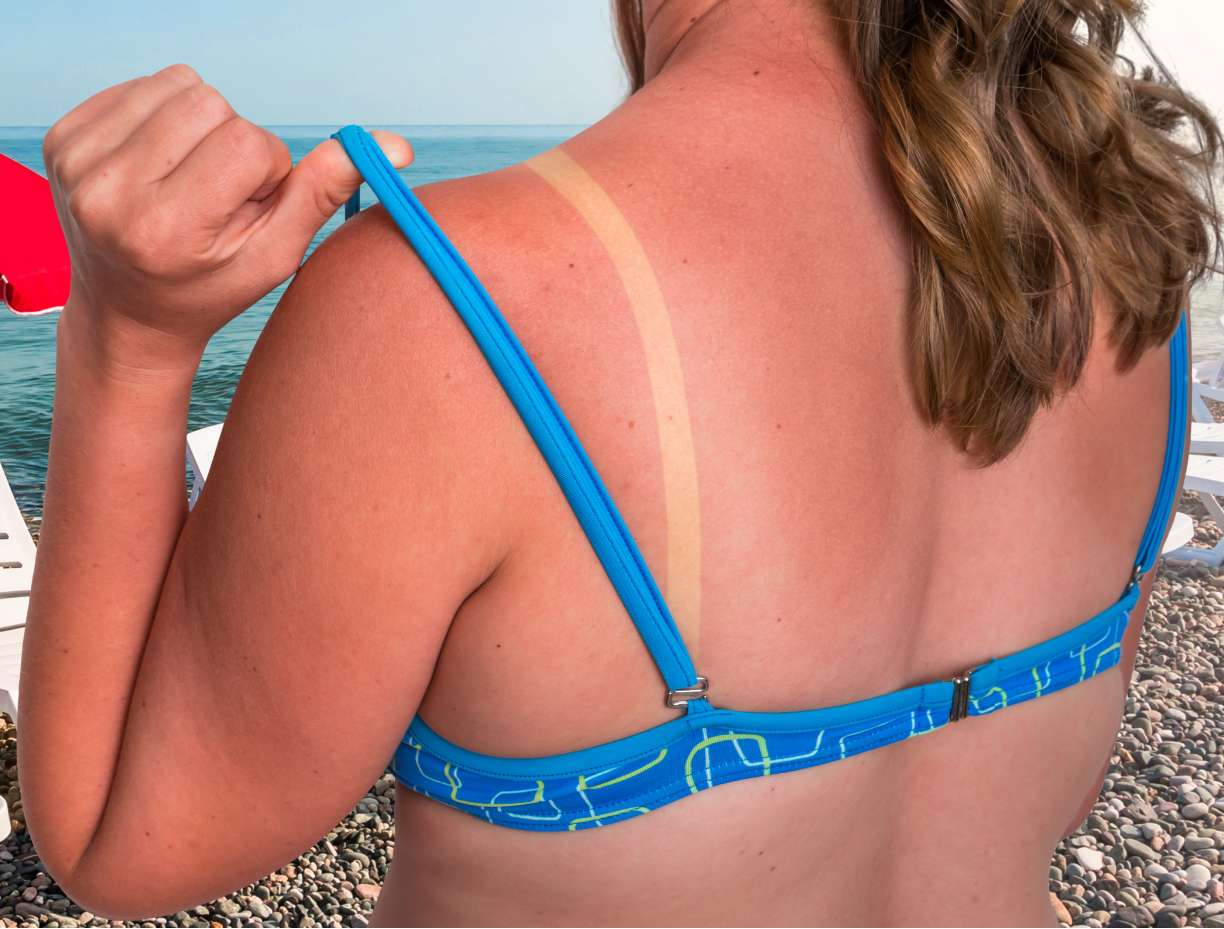 You can't undo the bad sun habits you may have had years ago. But you can be more precautious NOW. You can be diligent about getting an annual skin cancer screening and teaching your children good sun safety habits.
Sun Safety Tips
So, the first tip is to do whatever you can to avoid sunburns. And while all sunburns are bad, it's the blistering kind that tends to lead to skin cancer.
Watch your sun exposure. Avoiding the sun in our sun-drenched desert is nearly impossible. And the sunshine is a primary reason people love to live here. Just avoid lengthy exposure during the peak hours of 10 a.m. to 4 p.m. If you're at the beach or some other climate that is cooler than the desert, it's even more important to monitor your exposure because it won't feel as hot.
Use multiple layers of protection, including sunscreen, sun-protective clothing, hats, sunglasses, and seek shade when possible or intermittently to reduce intense exposure. And, yes, you still should apply sunscreen if you are wearing sun protective clothing or beach cover-ups.
Remember, sunscreen is like wisdom – it only works when you apply it and reapply it.
Test Your Knowledge about Skin Cancer Facts
Here's a short, six-question quiz from the American Cancer Society we invite you to take to test your sun safety awareness with true/false questions.
What to Look for in a Sunscreen?
There are two types of sunscreens – chemical and physical sunscreens (also called physical blockers). Well, three, if you count combination formulas, some of which we carry at Contour like EltaMD or Neova. Chemical sunscreens absorb into the skin while mineral-based formulas remain on the surface of the skin to serve as a physical protective barrier. Some people prefer the more natural mineral formulations. One of the complaints people used to have about mineral formulas was the "white shadow" they cast on the skin, but new formulations have pretty much addressed this concern. One of our newest mineral formulas is the ISDIN line. Regardless of which type of sunscreen you prefer, here are some things to look for when selecting a sunscreen:
Ingredients – Last summer, the FDA recalled spray sunscreens that contained benzene. Still in use, Oxybenzone is also a concern. Be sure to read the labels carefully. Look for titanium dioxide and zinc oxide as active ingredients in mineral formulas. With chemical sunscreens, look for no parabens and no fragrance as fragrance can irritate some people. While some people ascribe to the fewer ingredients the better philosophy, that's not necessarily true when it comes to some of the physician-grade brands we offer that include excellent anti-aging ingredients. Several of them contain an abundance of antioxidants and healing extracts that will help your skin repair prior sun damage while it protects you today.
Broad-spectrum – You want your sunscreen to protect you against both UVA (the kind of rays that contribute to wrinkles and premature aging) and UVB rays (the wavelength that produces sunburns.)
Water-resistant – If you plan on being active or in the water, a water-resistant formula is a good idea. According to the new FDA labeling, no product can claim it's waterproof, but they may claim water-resistant, which typically is up to 80 minutes before you need to reapply.
SPF – The first SPF sunscreen was a 2! Contrast that to some today that are 50+! Today, most sunscreens have high sun protection factors, but we recommend at least an SPF of 35. What
There are misconceptions about what SPF means as far as how long you can stay out in the sun. Here's a great explanation on SPF from the FDA that's worth your time to click and read.
Tint – Why mention tint? Because compliance is a key factor. If you love your sunscreen, you'll use it regularly. Some people appreciate a tinted sunscreen and even use it instead of makeup.