With face masks it's all about the eyes now!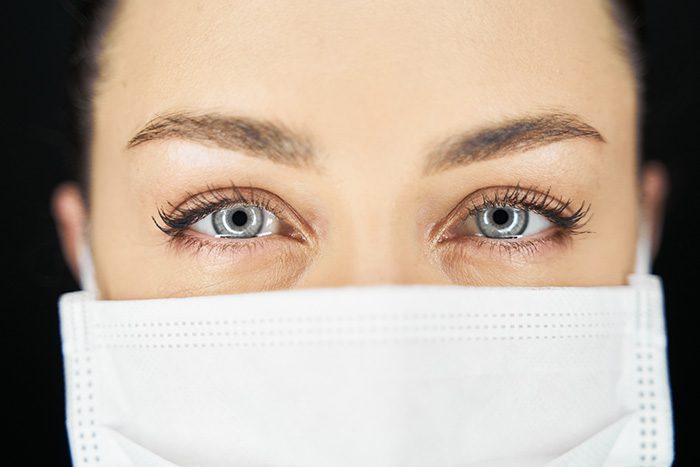 The masks we wear cover most of the face, including the cheeks, lips, and nose. This puts a lot of pressure on the eyes to represent the best of us and showcase our personality. Eye fatigue can be present around the entire eye area and affects everyone of all ages.
The COVID-19 pandemic this year has especially been a major source of stress and the eyes are susceptible to its tiring effects. Contour Dermatology offers many state of the art eye creams that will ensure you are putting your most beautiful face forward, even if it is just a fraction of it.
In the meantime, here are three fun eye masks you can do right now to temporarily relieve and beautify your stressed eyes while you decide which more long-lasting eye cream to commit to:
A cucumber rose mask works great for re-hydrating the eye area. Mix 1 tsp of minced cucumber with 1 tsp of rose water. Apply this mixture to a cotton pad and relax for 10 minutes before gently rinsing it off.
Tea bags can mitigate any puffiness around the eyes. Steep two tea bags that contain caffeine and put them in the refrigerator to cool for a few minutes. Place them on your eyes for ten minutes.
An avocado and aloe vera mask will hydrate and rejuvenate tired eyes. Mix 1 tsp of avocado with 1 tsp of aloe vera before applying generously around the eyes. Leave on for 10-20 minutes and then gently rinse it off.
If you are looking for an eye cream that will yield more permanent and more noticeably rejuvenated eyes, consider investing in one of the many eye creams Contour has to offer. Keep an eye out for these four eye-opening opportunities to give your eyes the renewal they deserve. These products can be bought on our online store or during your next appointment.
Skin Medica TNS Instant Bright Eye Cream
This is appropriate for normal or combination skin types. It reduces fine lines, wrinkles, skin tone, dark circles, and coarse texture by the activation of its specialized key ingredients when applied to your skin.
Skin Medica Dermal Repair Cream
This cream is vitamin-enriched and supplemented with antioxidants and hyaluronic acid to address sun-damaged skin, age spots, and protects against harsh environmental conditions. It will provide skin hydration for normal to dry skin.
Obagi Elastiderm Eye Cream
This eye cream reduces the appearance of fine lines and wrinkles, improves the feeling of elasticity and firmness, and promotes smoother and tighter-looking skin. 97% of those who use this cream saw reduced roughness and crepey texture of the skin around the eyes.
Obagi ELASTIderm Eye Complete Complex Serum
This eye cream is a major upgrade to the tea bag mask. It contains caffeine, a bi-mineral complex, and malonic acid that is delivered to the eye via rollerball technology. The results are a restored elasticity and collagen growth.
Don't forget… if you do not feel like creating your own eye mask experiment or do not want to invest in one of our eye creams, hyaluronic acid facial fillers can provide a more permanent solution to chronically fatigued eyes.