Treatments for Double Chins on the Rise
Videoconferencing meetings being the catalysts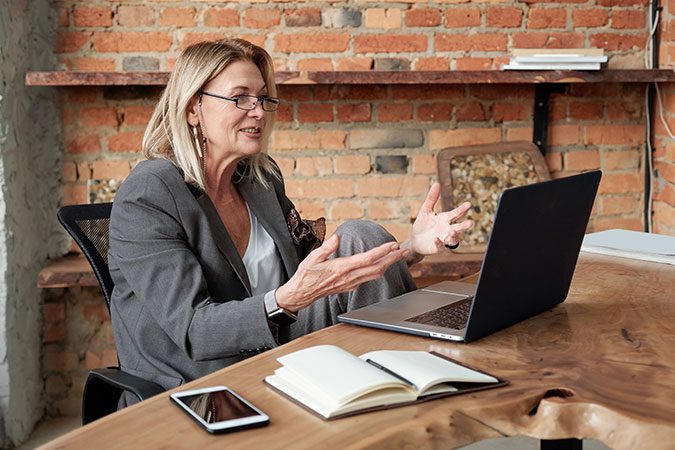 This pandemic has popularized the idea of videoconferencing meetings and is unfortunately giving everyone a chance to see themselves in a new and less appealing way, especially in the chin area. Several psychologists conclude that this is because we are not accustomed to the mirror image of our normal reflection nor are we used to seeing slightly less favorable shadows and blemishes. This has caused some to avoid having a camera on altogether during videoconference calls.
A common reason for why double chins are even more noticeable right now is because of the camera angle. If the camera is angled upward towards the face and you've recently put on a few unknowing pounds from the quarantine, the chin will appear much bulgier than it might look in the mirror. Before your next videoconference meeting, see if these camera tips and tricks will work for you:
Face towards the light, not away from it. This can mean facing towards the light of the window or have a lamp placed in front of you. Having light behind or above can make you appear much darker.
Have a great angle. The camera can distort and unflatter an otherwise beautiful face. Having the camera placed at or above eye level is the best, however, laptops are usually below eye level. A quick fix for this is to stack the computer on top of a few magazines or books.
Maintain your normal appearance. If makeup is normally part of your routine, consider continuing to use it in videoconference meetings so you feel like your usual self.
Consider the color of your clothes. White and black clothing can appear boring and can even wash out your natural complexion. Try having a variety of colors, even if it is just a simple necklace or pair of earrings.
So why is technology making everyone look much worse off than the mirror? An easy way to understand this is to imagine if you had only one eye. You would only get one angle of the world, right? Each eye is responsible for picking up visual information that the other eye does not, therefore creating a three-dimensional picture with depth. Since a camera only has one 'eye,' it flattens images in a way that the mirrors we see with our eyes do not.
Some double chins unfortunately go beyond the camera and are not as easily remedied. Double chins can be caused by aging which lessens the skin laxity, weight gain, or genetics. Luckily Contour Dermatology can easily treat your double chin in time for your next videoconference call! We have many options available and our dedicated staff will assist in finding the best treatment option for you.
CoolSculpting
In just one hour, you can freeze your double chin fat away. The CoolMini applicator is an FDA approved treatment that is non-surgical and has no downtime.
Liposculpture
Contour specializes in the most advanced form of liposuction; liposculpture. Double chins are one of the most common areas we perform liposculpture on.
VelaShape III
VelaShape III has been described as feeling similar to a deep tissue massage. This laser treatment reduces cellulite and circumferential reduction.
Profound
This is a non-surgical treatment for jawline and neck contouring. This procedure stimulates the production of elastin, collagen, and hyaluronic acid naturally, thereby decreasing wrinkles and enhancing overall skin tone.
Kybella
Kybella injections take 15-20 minutes that are usually spaced one month apart six times. It works by introducing deoxycholic acid which breaks down the outer layer of fat cells, literally melting the fat away.
Mini Facelift
A facelift is a slightly more invasive surgical option but has permanent results. It treats sagging skin by tightening and pulling the skin towards the jowl area of the face.
Lastly, Contour wants you to know that all faces are beautiful in their own way and a natural variation is what makes us unique from one another. Extra fat on the chin, however, steals all of the attention away from these natural variations. Being proactive about remedying your double chin will ensure you feel confident with the face you have.