10 Quick & Easy Ways
Keep Coronavirus (COVID-19) Out of Your Home After Visiting the Grocery Store
Unless all of your food comes directly from your backyard garden, shopping for food is an essential errand we all must prepare for at some point in the week.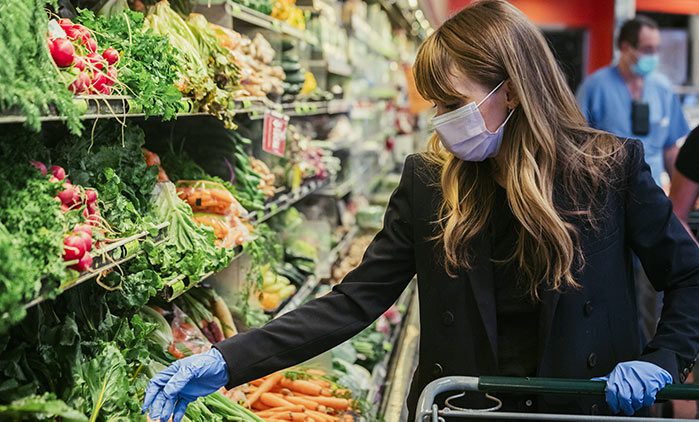 This routine trip to the grocery store can feel overwhelming when the television, smartphone, or people you are in contact with frequently remind you how threatening the coronavirus may be to your health. COVID-19 is more commonly spread via respiratory droplets from sneezing or coughing and it can survive on surfaces such as countertops or food packaging for a short period of time. This is why it is important to take precautions while you are shopping at the grocery store and to continue being conscientious once you enter your home.
Here are 10 quick and easy ways you can keep the coronavirus out of your home:
Use latex gloves in areas of the grocery store that are commonly touched. The shopping cart, door handles, pin pads, or your steering wheel may have traces of the coronavirus or other common viruses. These areas may also be cleaned by using a disinfecting wipe or hand sanitizer.
Wear a mask and maintain a six-foot distance from others while in the grocery store. The mask helps protect you from those who may be sick while protecting others in the event you are asymptomatic. There are different varieties available for purchase in grocery stores, crafts stores and even online tutorials explaining how to make one.
Leave your shoes outside, in the garage, or in a place where foot traffic is not frequent. Respiratory droplets eventually fall to the floor and can later be picked up by shoes. Removing outside shoes is especially important if you have young children who play on the floors.
If you live with anyone who is immunocompromised, consider having a change of clothes available upon arrival to your home. A change of clothes prevents you from unknowingly transferring the virus onto your furniture.
Wash your hands with soap and warm water for at least 20 seconds. If you do not have immediate access to a sink, use hand sanitizer to rid your hands of germs.
There is new evidence regarding food or food packaging playing a role in the spread of COVID-19. It is a good idea to wipe down the exteriors of packaged food items from the grocery store. Make sure that the cleaning agent you use to disinfect your packaged food items does not get on your food as it may be harmful if ingested.
For fresh food from the fruit and vegetable department, use vegetable wash with cold or warm running water to remove any bacteria or potential viruses.
Coronaviruses have more trouble surviving on warm surfaces with direct exposure to the sun. Pantry items that do not need to be put into the refrigerator or freezer may be left alone for a few hours to a few days depending on temperature and sunlight exposure to kill the virus.
Disinfect all surfaces regularly and every time you or someone else in your household returns home. You can reduce exposure to COVID-19 if you are taking greater precautions to disinfect all areas where someone in your house might have touched and did not wash their hands after being out in public.
Stay home and have your groceries delivered to you instead. Many companies offer curbside pickup and home delivery to ensure minimal exposure.
Since the probability of contracting COVID-19 from your neighborhood grocery store is possible, it is essential to be prepared. The places you visit are taking precautions to ensure their customers have the safest experiences possible, including sanitizing shopping carts and handheld baskets and regulating the number of shoppers in the store at a given time. Next time you see your local grocer working hard to keep you safe, make sure to say thank you for all they do. Combatting this virus will only work if we all do our part.