Which is better for you
Liposuction or Liposculpture?
Do you have stubborn fat pockets? Are you less than 30 pounds overweight? Do you want more muscle tone and shapeliness in certain areas of your body? You might be a good candidate for tumescent liposulpture.*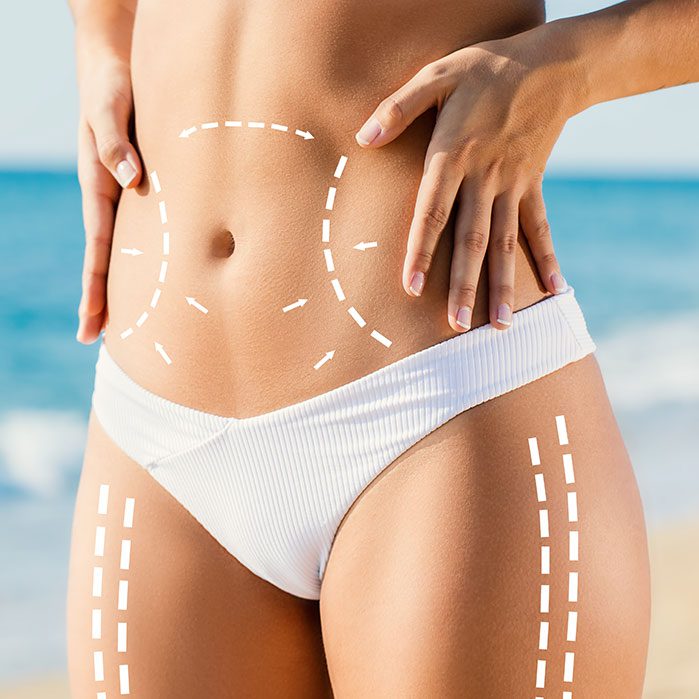 We all have that one area on our body that we wish we could reduce or push into another area. No matter how much diet and exercise we accomplish, some fat cells are still stubbornly resistant. Liposculpture and liposuction are treatments which may reduce your stubborn and unwanted fat with minimal downtime.*
Liposuction was first introduced in the 1920s and has come a long way since its debut. It is a surgical technique that involves a removal of fat from specific areas of the body by reducing the number of fat cells in a given area. This allows for the body to eventually adhere itself naturally to the new contours of the skin post-treatment. Liposuction is great for patients who are not seeing the results they want from diet and exercise, have stubborn accumulations of fat in undesirable areas or are genetically predisposed to having extra weight. Liposuction commonly treats the chin area, arms, inner and outer thighs, hips, flanks, "love handles", and the waist.
Liposculpture which is the most advanced technique in body contouring available. Liposculpting is a much more complicated process than traditional liposuction because the entire physique of the body must be accounted for. Every area can be treated; the thighs, abdomen, hips, arms, and even double chins.
Liposculpture is designed to achieve a slimmer, more symmetrical body by targeting and removing unwanted fat deposits. The result is a more attractive and shapely body compared to liposuction. It is also much safer and allows for better results. Since this is an outpatient procedure performed with only local anesthesia, treatment is affordable.
Tumescent liposuction is a three to four hour procedure performed by inserting a thin instrument called a cannula into the skin to remove the fat deposit via high pressure vacuum. Unlike traditional liposuction, miniaturized instruments called micro cannulas are used to target the fat with more precision.
Tumescent fluid is then added to liquify the fat and run it through the small cannulas. Tumescent means swollen and firm. This anesthetic solution containing lidocaine and capillary shrinking epinephrine is shot into the subcutaneous fat. This swells and firms the targeted areas, making it much easier for a surgeon to contour. The elasticity in your skin in the treated area will shrink naturally and sculpt itself to your new body shape.
Tumescent liposuction is a much safer and more comfortable option when compared to traditional liposuction. Among its benefits are localized anesthetics, less bruising, less pain, and more sculpted results.* On top of it all, liposculpture results are long-lasting and new fat cells generally do not regenerate in the treated area.*
A good candidate for this procedure will be over the age of 18, healthy, and within 30 pounds of their ideal body weight. While liposuction covers larger areas, liposculpture treats smaller pockets of fat while contouring other parts of your body.