What causes wrinkles?
As we age, our skin loses its strength and elasticity. Fat in the deeper layers diminishes causing loose, saggy skin and pronounced lines and crevices. Repeated facial movements and expressions also contribute to fine lines and wrinkles. Each time we use a facial muscle, a groove forms beneath the surface. As skin ages, it loses its ability to spring back into place.
What can you do about them?
Cover up in style
Minimizing sun exposure is central to any anti-aging skin care plan
While sunscreen can go a long way, it's also a good idea to wear a hat and sunglasses, and seek shade whenever possible.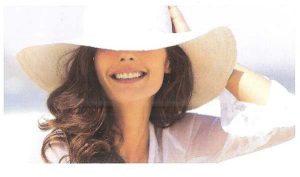 Remember to use a water resistant sunscreen that offers a broad spectrum protection (SPF 30 or higher, such as Obagi Sun Shield Matte Broad Spectrum SPF 50) on any part of your body that's not covered by clothing.
Ditch your bad habits
We all know that cigarettes and alcohol can be bad for your health, but did you know they can also age your skin?
Tobacco smoke contains toxins that can lead to premature lines and wrinkles. Alcohol can dehydrate the skin, making us appear older than we really are.
Blend your way to younger-looking skin
When it comes to healthy skin, what we put into our bodies is just as important as what we put on our faces. For a healthy diet, consider eating more fruits and vegetables, like those included in these smoothie recipes. So what are you waiting for? Grab the blender and whip up these delicious fruit and veggie smoothies for the healthy glow you crave.
---
Green Machine Smoothie
2 cups water
2 cups spinach
1 cup blueberries, fresh or frozen
1 banana, fresh or frozen
1 cup ice
1/2 an avocado
---
Very Berry Smoothie
1 cup blueberries
1/2 cup strawberries
1 kale leaf (stem removed)
1/2 a medium-sized beet
1 cup unsweetened almond milk or water