Five Facial Faux-Pas
Living by a few simple rules can lead you to healthy, beautiful skin.
Five Facial Faux-Pas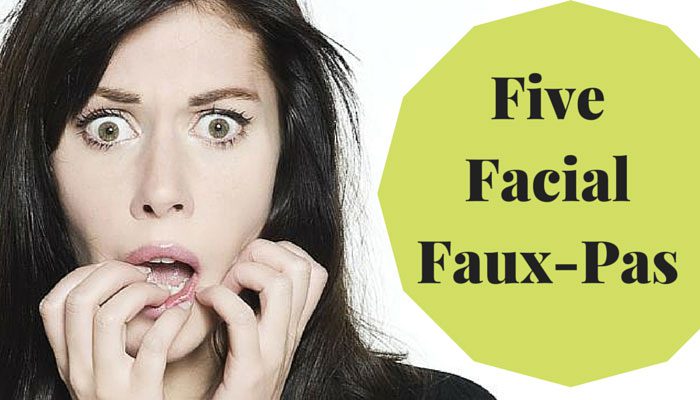 Living by a few simple rules can lead you to healthy, beautiful skin.
These mistakes might be taking their toll and damaging your skin in ways you can't even notice yet! If you're only doing 1 or 2, you might be better than most. Make a few changes and you'll probably see results. If you're going 3 or 4 of them, yikes! Time to change some habits and treat your skin nicer. If you're doing all 5!? Oh-No! I would schedule an appointment with one of our great estheticians for a facial and chemical peel to start repairing your skin now.
1. Are you sleeping in your make up?
Did you fall asleep in your makeup? Major mistake. Your skin has pores because it needs to breathe. When you put on layers of make up for the day you're already blocking that oxygen flow, you need to give your skin a break while you sleep. Makeup can clog your pores which creates a dull look. One which you'll be tempted to cover up with more makeup only making matters worse.
As an added bonus, when you do wash your makeup off, you're removing all the gross particles that have accumulated throughout the day like grime, pollution, and sweat. You do not want to take those 3 to bed with you! So wash them off before you go to sleep.
2. Is your shower too long?
When you wake up with sore muscles, have a hard time finding energy, or it's just too cold in your bathroom, a nice long shower is the best medicine. Or is it? Having too long of a hot shower is removing important moisture and oils from your skin? How do you know if your shower is too hot or too long? If you're already noticing dryness on your body, this could be the problem. We should all take a few steps back: limit your shower just a little, make the water a little cooler than you already have it, and moisturize when you get out before getting dressed. You should see improvements over time.
4. Are you putting all your attention into your face?
Do not walk out the door in the morning without sunscreen on. By the time you already start to see the damage on your face and skin from the sun, you'll have years and years of damage and it might be too late. The key is prevention. Wear your sunscreen now, every day, even if it's a little cloudy, to prevent sun damage and skin cancer. The sun ages all of us, just think of the luscious grapes that turned into raisins from the power of the sun! Sunscreen is your best anti-ager.
3. Are you not wearing sunscreen?
Don't ignore the rest of your body when it comes to anti-aging. After all, your face is only about 10% of your body and the other 90% would like your attention, too. Especially your hands and décolletage where major signs of aging can occur. The hot spots for aging are face, neck, décolletage, and hands. Concentrate on these areas, but don't ignore the rest. Like I said in 2, you should be applying moisturizer to your whole body after every shower.
5. Are you exfoliating too much?
It is possible to have too much of a good thing? When it comes to exfoliating, yes, it can! Each time you exfoliate the skin barrier is compromised; which means you need to concentrate on barrier repair between each exfoliation by using topical treatments. Over exfoliation can lead to irritation, tight, dry, and flaking skin, and breaking down your skin's barrier which exposes it to damaging agents in the environment. Everyone's skin is different, so it's important to read the signs and know how much you should be exfoliating. Our estheticians can help you know what your skin needs. Basic rules for everyone, though, is to limit exfoliation to 2-3 times a week and pick just 1 product with exfoliates and stick to it.
---
After hearing these five facial faux-pas, how are you treating your face? If you haven't been that nice to your skin, don't fret, at Contour Dermatology we can get you and your face best friends, again. Living by a few simple rules can leave your skin healthy, young, and beautiful.