Don't let that Gobble Gobble let your neck wattle wattle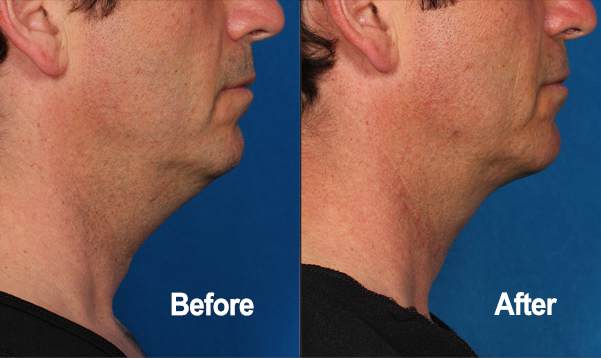 Whether due to aging, losing weight, or just a bad roll of the genetic dice, no one has ever said they enjoy the look of their newfangled dangle. Luckily Contour Dermatology has many options for keeping that gobble where it belongs; on the table.
Turkey necks can be caused by a multitude of reasons. As the aging process goes on, the skin begins to lose its elasticity. Collagen and elastin fibers form the basic structure of the skin, giving it its firm, but also flexible and rubber band like properties. When we age, these key components are produced less and less. Thus, the skin begins to lose the fight against gravity.
Large fluctuations in weight can also cause a turkey neck. The skin had to expand, and stretch to cover the area around the neck. Once a person loses a lot of weight, sometimes the skin cant contract enough to completely smooth again. That extra skin then, unfortunately, sags.
Finally, genetics are a big component of whether you get a turkey neck or not. If many of the people in your family tree have had one, then it is more likely that you will too. Some people even begin to see it forming by their mid-20s.
Thankfully you Have Options – At Contour Dermatology
The CoolSculpt Mini is a great option for those that want to fight the turkey neck, but don't want an invasive procedure. CoolSculpting technology is one of the most effective non-invasive ways to help reduce extra fat. As of this article, CoolSculpting has been voted the number one non-invasive fat reduction technique for the fourth year in a row! It works by using suction and cooling to kill fat cells. Once the fat cells are treated, they die off over the next few weeks, and the body naturally eliminates them through the lymphatic system. This option is good for people who don't just have loose skin, but also excess fat under the chin.
Kybella is another option for fat reduction under the chin. Kybella, or deoxycholic acid, is injected into precise locations under the chin, and the acid gets to work destroying fat. After the treatment, the fat cells are unable to store nutrients, and are taken away through lymphatic drainage. The treatment takes only a few minutes, and you can be on your way, with very little downtime.
The VelaShape III combines radiofrequency, infrared light, suction, and mechanical massage to help reduce fat cells, and tighten loose skin. This machine is perfect for turkey necks! By doing multiple treatments in one session, the patient is able to keep costs down, and still get good results. With very little discomfort, and downtime, the VelaShape III is a good option for the cost conscious, and minimally-invasive minded patient.
Liposuction is great for getting dramatic results, quickly. A canula is inserted into the treatment area, and the fat cells are then physically removed. Tumescent liposuction is far less invasive than traditional liposuction, and downtime is minimal. Although this treatment seems more invasive than other options, the patient is rewarded for the extra effort. Results are visible as soon as swelling subsides, and those results can be kept forever.
Finally, Profound radiofrequency microneedling can create amazing results. Profound is the latest in radio frequency technology, and Contour is the only office in the Coachella Valley to offer it! A computer controlled array of microneedles are inserted to a precise depth and angle in the skin, and radio frequency energy is emitted. This may sound very unpleasant, however it isn't! The machine is very gentle, and combined with numbing, patients hardly feel a thing. By emitting radio frequency energy at a precisely monitored position, The machine is able to stimulate collagen and elastin production, tightening and smoothing the skin, reducing volume and creating a naturally youthful look. Over 99% of patients see satisfying results, and the treatment has very little downtime compared to other devices.
Overall, there are a lot of options to choose from at Contour Dermatology. Everyone has a choice, regardless of price range or time restrictions. You don't have to live with the turkey neck that father time has given you. Surely one thing you can be thankful for this thanksgiving, are the amazing fat reduction and skin tightening techniques that can help reduce that unwanted wattle.
* Results and your patient experience may vary