Why Chemical Peels Are So A-peel-ing
The different chemical peels that Contour Dermatology offers?
If you've ever considered getting a chemical peel but are unsure if it's right for you, you'll want to read on. I recently had a mid-level Jessner Peel with Micayla Osifo at Contour Dermatology. I wasn't sure what to expect, but I was in excellent hands with Micayla and am beyond happy with my results. Read about my experience and see my before and after photos below.
During a chemical peel, a chemical solution is applied to the skin of the face, neck, chest, or hands by an esthetician in a relaxed setting. The chemical combination induces a controlled injury to the skin. Chemical peels remove the outermost layers of skin, peeling away the effects of sun damage and aging, and even scarring. Peeling generally begins around the third day and ends by the seventh day. The skin is regenerated during the healing process and collagen is produced. New and radiant skin is revealed.
Chemical peels can improve the appearance of wrinkled, aging, sun-damaged or sagging skin, scars, age spots, crow's feet, hyperpigmentation, and melasma.
What are the different chemical peels that Contour Dermatology offers?
Contour Dermatology offers many light and medium-strength chemical peels that can be tailored to your specific needs.
Light superficial chemical peels include:
Salicylic acid peel – This gentle superficial peel is beneficial for those with mild skin discoloration, acne, or rough skin.
Vi peel – This light peel helps improve fine lines and evens skin tone. It is safe for all skin types, unlike other chemical peels.
Anti-aging peels include:
Glycolic peel – This light to medium-strength peel gently exfoliates the skin, reducing wrinkles, brown spots, fine lines, and acne scars.
Re-Vitalize peel – This peel stimulates collagen production, reducing wrinkles, evening pigmentation, and reducing acne scarring.
TCA 25% peel – This peel minimizes surface wrinkles and superficial facial blemishes and balances uneven skin tone. It requires more downtime but provides more dramatic results.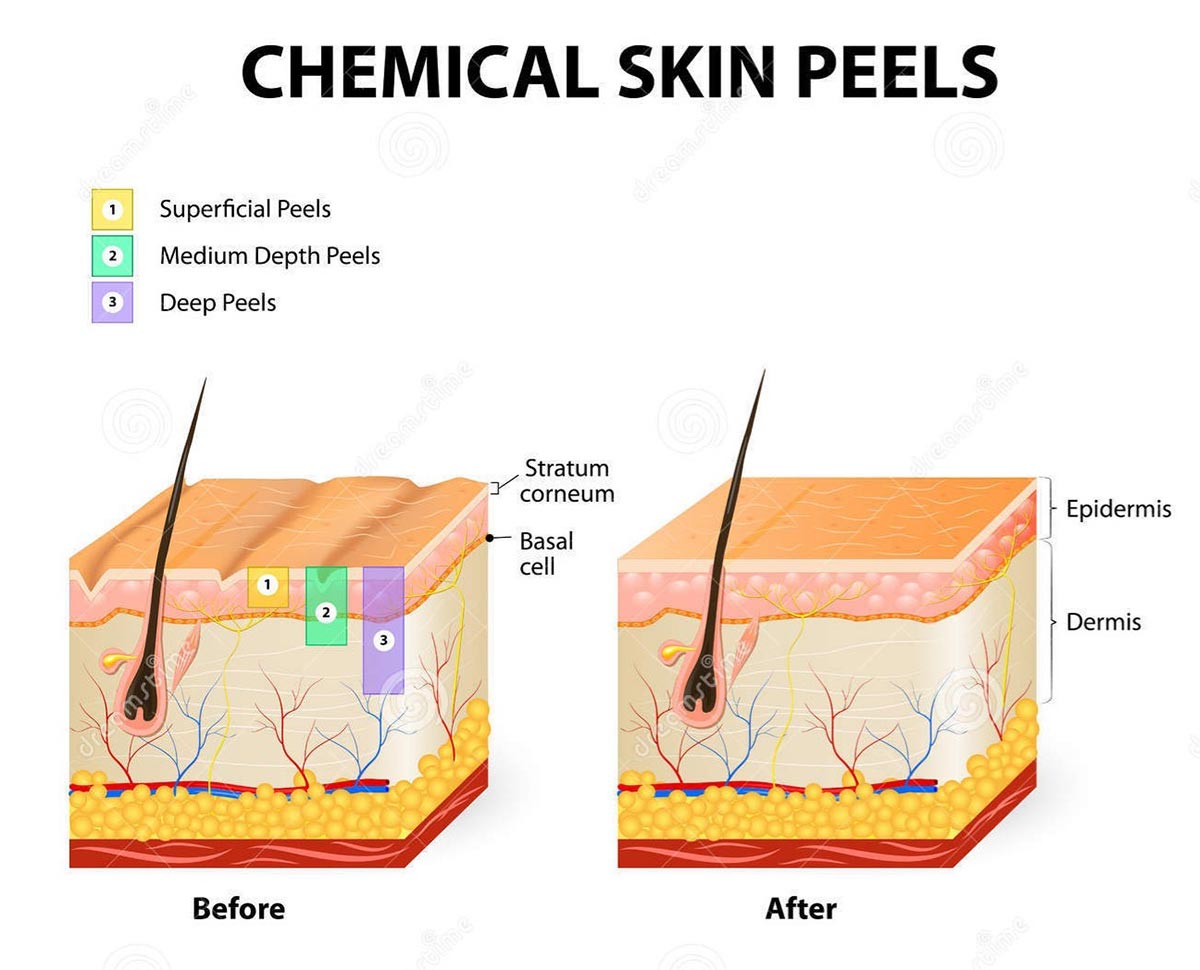 Chemical Peel - How it's done
Skin will be thoroughly cleansed. A topical solution will be applied. Depending on the patient and their desired results, one to three layers are typically applied, waiting a few minutes between each application. The solution is wiped away with water. The process, from start to finish, generally takes 15 to 20 minutes.
What can I expect after having a chemical peel?
Following a chemical peel, redness, itching, and breakouts may occur. Skin will flake and peel. It is important to avoid the sun and use a broad spectrum sunblock for several months following your peel.
Micayla welcomed me into the procedure room and had me lie down. She thoroughly explained the procedure of what she would be doing, what I could expect during the procedure, and how I should treat my skin following the peel. She is very knowledgeable and answered all of my questions.
She said she would be giving me the Jessner Peel, a salicylic acid peel. When I asked her why that peel instead of, say, the glycolic acid peel, she said "The difference between this and the glycolic is that the glycolic is more ideal for drier skin types, younger skin, or sensitive skin types, people that don't really want to see that peeling and have the downtime. This is your middle-depth peel." Since I don't qualify for 'younger skin' status (I'm 43), I was on board with her choice, and we began.
After cleansing my face, neck, and chest, Micayla applied acetone to my skin to remove all of its natural oils. After letting it dry, she applied the first layer of Jessner solution. After letting the solution dry, she applied two more layers of the solution on my face. Because the neck and chest are generally more sensitive, she only applied one layer to these areas.
At one point during the procedure, I felt a slight tingling sensation but as soon as I began to feel it, it stopped. The procedure was never painful, not even uncomfortable. We chatted through the entire procedure, and it was over before I knew it. I was in the room just over 20 minutes, from start to finish.
I was excited to see my results after she told me what I could expect. "Your skin is going to be a little tender, a little sensitive to the light and heat," Micayla said. "You can expect your skin to flake similarly to a peel-off mask. You will notice the new skin growing underneath. You can also expect to see your skin brighter. You'll see it more even. Your oil production will be more even. You can expect your skin to feel softer, smoother, and supple. You'll just be in love with it."
Person Experience - skin peeling process and results
Day 1: About eight or nine hours after the procedure, the skin on my face began to feel tight.
Day 2: My face felt tight. My chest was red and itchy, and I started to breakout.
Day 3: I spotted some very slight peeling just above my lip.
Day 4: The peeling above my lip was more noticeable, and peeling began around my eyes and under my chin.
Day 5: Light peeling is spreading over my face.
Day 6: Light peeling all over face.
Day 7: Light flaking all over my face and a little on my neck.
Day 8: Nearly all peeling had subsided.
Day 9: Peeling spotted under my chin.
Day 10: Peeling a little under my chin and in the area of my sideburns.
Day 11: No longer visibly peeling.
The peel I received never slowed me down. Most people I interacted with probably wouldn't have even noticed the peeling except for maybe on Day 6, and even then it wasn't disfiguring. I was thrilled to see some of the sun spots that bother me lighten and even seem to disappear. My skin tone looks more even.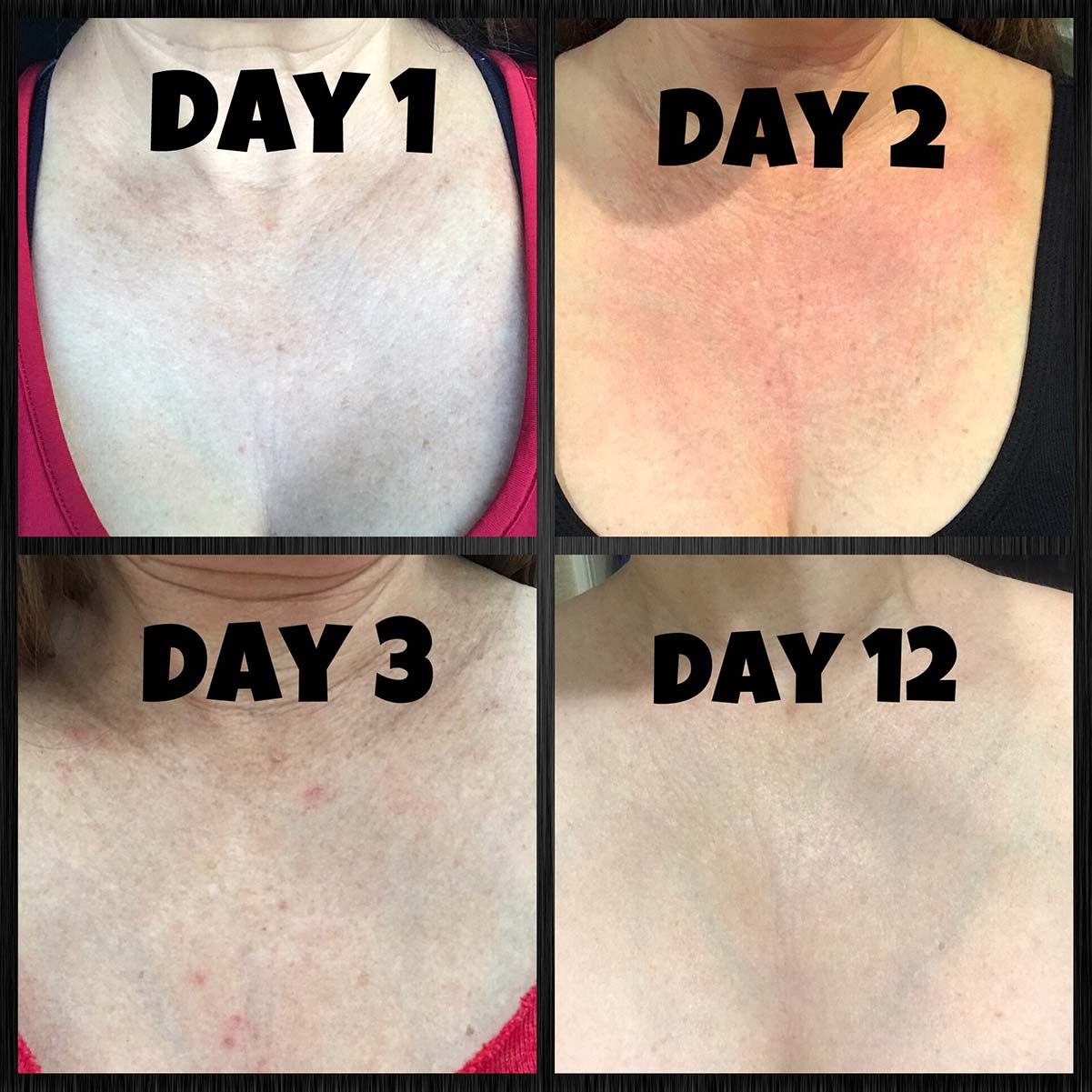 Chemical Peel on Chest (Décolletage), day 1 to day 12 progression
Recommendations
For best results, do not rub, scratch, or peel your skin after a chemical peel. Repeat peels every few months. New skin is sensitive. To maintain the results of your peel, use a broad spectrum sunscreen daily and avoid sun exposure. Apply moisturizer to avoid cracking caused by dry skin and resulting scarring.
For more information or to schedule an appointment, please call 888.977.SKIN.