Elina's CoolSculpting Experience
Fat Freezing Story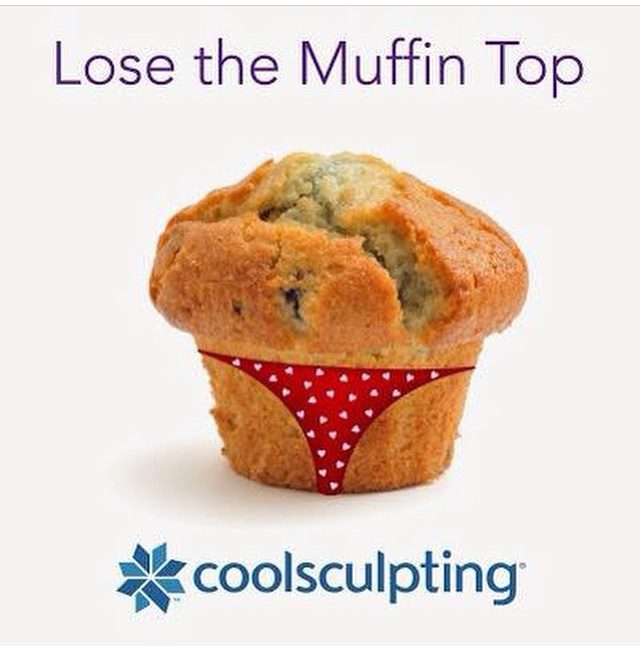 CoolSculpting has been a patient favorite at Contour Dermatology since its introduction and is FDA-approved in nine areas of the body to treat stubborn fat including under the chin and jawline, thighs, abdomen and flanks, bra fat, back fat, underneath the buttocks, and upper arm. While Contour Dermatology offers other safe fat reduction treatments such as VelaShape III, Kybella, and liposuction, many of our patients prefer CoolSculpting because it is completely non-invasive and permanently lasting with no downtime.
Just one treatment of CoolSculpting alone has been shown to reduce 20-25% of fat cells in the treated area. Most patients are so thrilled with their results that they opt to receive several treatments in many areas of the body. The CoolMini applicator allows for the treatment of multiple areas of the body in one treatment session.
If you are considering getting the CoolSculpting treatment but are still unsure, read on and learn about Elina's experience at our Rancho Mirage office.
Q: Why did you decide to receive the CoolSculpting treatment?
A: "I chose CoolSculpting because I wanted something that was not invasive like liposuction to achieve fat removal in my problem areas. My outer thighs are especially problematic for me, so I decided to get those treated first."
Candidates for CoolSculpting often opt for this treatment when diet and exercise are not showing visible improvement in certain areas of the body. It is commonly misconceived that diet and exercise eliminate the number of fat cells in the body, however, this is not the case. These cells actually respond to weight loss by shrinking and enlarging with weight gain. The only way to get rid of these cells is through CoolSculpting. CoolSculpting permanently reduces the number of fat cells in the treated area, thus eliminating the possibility for them to become larger or smaller in the future.
Q: Briefly describe your CoolSculpting experience with Contour's staff.
A: "The expert training of the technicians was obvious during my visit. They first mapped out the placement of the CoolSculpting applicators. After this, I leaned back in the chair as these pads they applied to my outer thighs. As they turned on the machine, it started to get really cold to the point the line blurred between cold and hot. Not too long after, my outer thighs became sort of numb and I didn't feel anything else in those areas. Since the process is painless and my only sensation was the coldness before numbness, I just went into relaxation mode for the rest of the hour. The staff was all extremely professional, and everyone seemed really passionate about seeing me achieve my results. I especially appreciate them taking the time to create a specialized treatment plan for my body."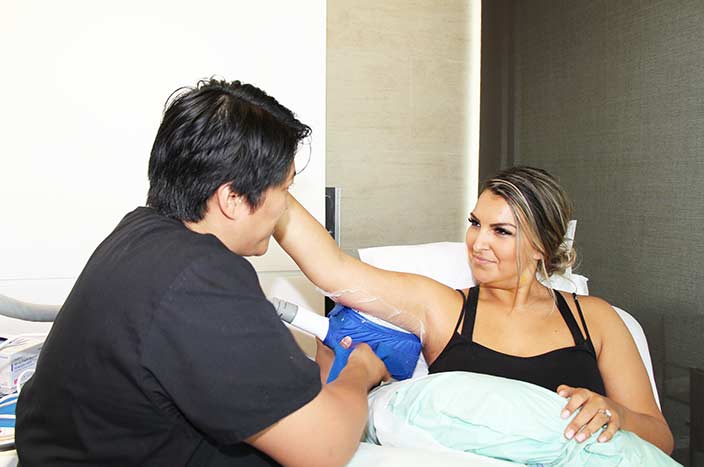 The CoolSculpting treatment is fairly simple for the nurse administering it and likewise is an effortless experience for the patient. A clear gel pad is first applied to the treatment area, creating a barrier between the cooling panel and the patient's skin. Patients have reported slight sucking, pulling, or tingling sensations as the machine begins to work. This goes away as the area becomes numb from the cold. Once the patient settles in with the treatment, many often read a book, watch tv, or answer emails. Once the treatment is over, one of our nurses will gently massage the area to break up the fat cells, thereby enhancing the fat reduction.
Q: Why did you choose CoolSculpting over other fat-reducing treatments?
A: CoolSculpting is simple and I like the fact that it's based on the simple idea of freezing fat with no chemicals and no injections. It is really straightforward; your fat is just being frozen. After trying it for myself, I noticed that it successfully targeted fat areas that have been impossible to get rid of with the strict diet and exercise I was following for years."
Q: Would you get CoolSculpting again?
"The fat that I have been holding onto for years just vanished. I am planning on having the stomach, legs, and possibly the arms treated in the future. The areas that it targeted were so severe for me, so I did not think it was possible to get rid of them. I am still in shock that it actually froze away all of that stubborn fat. Anyone who is thinking about getting CoolSculpting should give it a try; they will be sold on its effectiveness. The results are extremely obvious, and this procedure works like a miracle."
Elina's** story is just one of the countless positive CoolSculpting stories our patients have reported after visiting our practice. If you think it is time to finally say goodbye to your stubborn fat, don't hesitate in making your first CoolSculpting appointment with Contour!
**This name has been changed for privacy reasons.