Put Yourself in the CoolSculpting Spotlight
Contour Dermatology is excited to announce we have purchased two CoolSculpting Elite machines to add to our collection of six CoolSculpting Legacy machines. You might think of them as CoolSculpting 2.0. CoolSculpting Elite is the first upgrade to the revolutionary CoolSculpting device since it was FDA approved in 2014. It's completely new from the nuts and bolts to the proprietary software.
What are the differences between CoolSculpting Elite and CoolSculpting Legacy?
• The Elite system has dual applicators, which means you can treat two areas simultaneously.
• The Elite applicator is 18% larger to cool a larger area at once.
• The Elite applicator is C-shaped to provide a more secure fit for improved cooling with fewer air pockets.
• Both the hardware and the operating system were upgraded.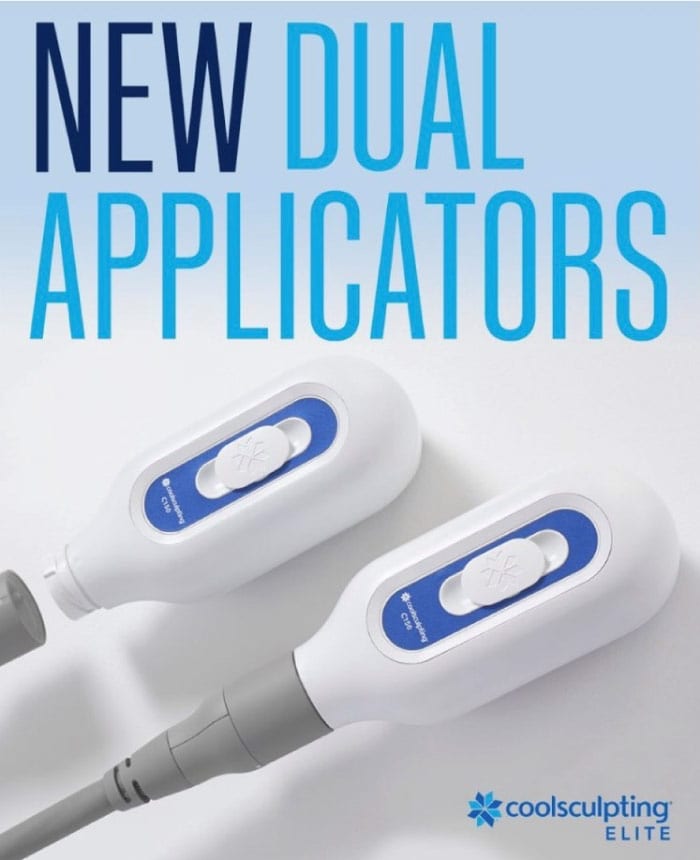 For whom is CoolSculpting Elite best suited?
CoolSculpting Elite is ideal for people who have larger and more than one area of fat to treat at once. Yes, we could accomplish this before and perform dual CoolSculpting as Contour has six CoolSculpting Legacy machines, but instead of two machines, this is more convenient with one machine and two applicators. If a person has several areas of fat to be treated, we could possibly use two CoolSculpting Elite machines to treat four areas simultaneously.
Will the Elite model freeze more fat? That is currently being studied, but it is at least as effective if not more so than the traditional CoolSculpting treatments which reduce up to 25 percent of the fat cells in the treated area. Treatment times are about the same as the Legacy treatments – a relaxing 35 minutes.
Come Talk with Us to Learn More About CoolSculpting Elite
If you have any areas of pinchable fat you want to freeze away, give us a call to see if you are a CoolSculpting candidate. Call or text (760) 423-4000 to schedule a consultation or click the button below.