Cool News for CoolSculpting Fans!
Contour Dermatology now has eight – count 'em! –eight CoolSculpting machines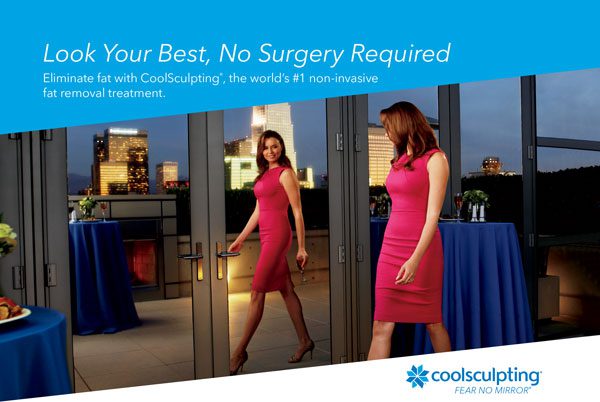 Playing It Cool
CoolSculpting fans- there is good news! Contour Dermatology now has eight – count 'em! –eight CoolSculpting machines on the premises. But wait, it gets better – there's also a new applicator called the CoolAdvantage which practically cuts treatment time in half and delivers even more effective results. To top it off, same day walk-in appointments are now available. Between the innovation and time-savings, Contour has simply become the coolest place in town. As confirmed by Zeltiq, manufacturer of CoolSculpting, we are the top CoolSculpting practice in the desert and we are in the top 2% of CoolSculpting practices in the nation.
Stubborn fat, the kind that resists diet and exercise, doesn't stand a chance against CoolSculpting. This FDA-cleared, completely non-surgical and non-invasive treatment delivers the slim physique you crave…with no downtime. Remember, fat cells freeze at higher temperatures than surrounding tissues. CoolSculpting technology safely delivers precisely controlled cooling to gently and effectively target fat cells underneath the skin. Over time, those fat cells simply melt away never to be seen again.
As for the matter of you being seen and treated quickly, Contour's eight CoolSculpting machines make it easy to get an appointment at a moment's notice. CoolSculpting has earned a reputation for effectively treating all the usual trouble zones where fat tends to accumulate – places like the abdomen as well as the inner and outer thighs. It's also effective on the flank areas, site of those pesky back fat rolls and in case you didn't know, CoolSculpting can be applied to reduce the fat in your double chin!
CoolSculpting continues to evolve and develop new ways to deliver its revolutionary technology. Hence CoolFit and CoolSmooth Pro CoolSculpting were developed for the inner and outer thighs. Likewise, the CoolMini applicator came along to target smaller areas, such as the double chin, knees and axillary puffs (bra fat) under the arms. Now Contour Dermatology is pleased to introduce the new CoolAdvantage applicator that freezes fat at a lower temperature than ever before.
The CoolAdvantage lives up to its name. First of all it offers the advantage of less treatment time. Whereas before 60-minute procedures were the norm, the CoolAdvantage accomplishes its task in 35 minutes with the added bonus of delivering even better results than the longer treatment. Chalk it up to an enhanced and more comfortable cup design and of course, the colder temperatures.
Cool things are happening at Contour as we stay on the cutting edge of CoolSculpting technology.
To schedule a consultation, call (760) 423-4000. To learn more about CoolSculpting online, visit https://www.contourfatfreeze.com/